One of the most anticipated games to arrive on the Xbox One in 2016 is ReCore, an action-adventure shooter game developed by the makers of Metroid Prime and is also being produced by no other than Keiji Inafune himself. Since its debut back in E3 2016, the game has picked up a lot of hype since it will be the first action-adventure exclusive to arrive on the platform. Inspired by games like Metroid, ReCore is looking to be a promising title offering fans of the action-adventure genre a somewhat unique adventure in a Utopian planet in search for life. After spending many hours with the game, ReCore indeed lives up to the hype, though the technical problems may be a hindrance to a what you may call an enjoyable experience.
ReCore follows the story of Joule Adams as one of the last remaining humans as she search for signs of life in a planet called Far Eden. Accompanied by Mack, a robot who will act as her sidekick, Joule must traverse through the barren sandy planet as she uncovers the secret of Far Eden. Using the clues of what her father has left for her, Joule must figure it out all by herself as she is the last remaining hope of humanity to find a habitable planet. In the ten hour-adventure that the game offers, Joule will meet several robots that will join her and will add flair to the exciting story that the game offers. As usual, the game starts off slow but it picks up as you play about three to four hours into the game.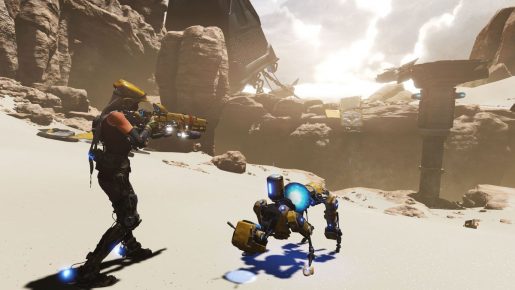 Game progression in ReCore relies on the Prismatic Cores that Joule gets in the game. Without spoiling much of the story, the Prismatic Core is a special core that can be found throughout Far Eden. In the game, it acts like as an energy core that gives life to machines and fortunately, Joule will have to get a lot of those in order to progress through the game and yes, it gets tiring if that's what you're doing for about ten hours. The first few dungeons, the amount of Prismatic Cores that Joule can get is about 1-2 but it increases later on. Fortunately, there are ways to get more and that's doing side-quests and exploring the outreaches of Far Eden. When you decide to do side-quests, expect to do a lot of platforming segments where you jump, hover, and dash. Luckily, each levels are well-designed and the platforming segments is satisfying.
The world of Far Eden is huge and one of the things you can expect in the game is for it to be open world. With the world being so dynamic, there are a lot of things for Joule to do in Far Eden. After getting through a certain dungeon in the game, Arena Challenges will be unlocked for those who wants to do dungeons and get items that Joules and Mack can use later on. Though before you can get to Arena Dungeons, there will be requirements that need to be met. The things you can do in Arena Dungeons vary; some will require you to get keys and more cores, while others will ask you to clear them in a certain amount of time. There will be secondary objectives that will be available for better rewards and as always, a boss awaits at the end. In addition to dungeons, Far Eden encourages you also to explore the barren planet as there are a lot of hidden areas waiting to be discovered. Sadly, the cycle of getting cores can get tiring and may get repetitive very quickly.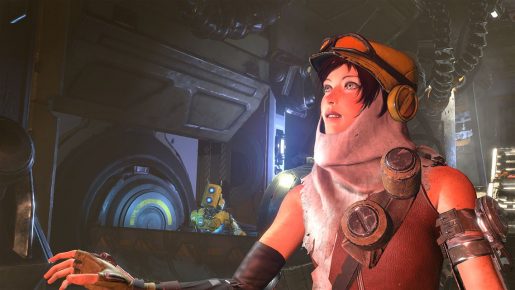 When it comes to combat, it's a third person shooter. For those who have played Lost Planet, ReCore feels somewhat similar, especially the way the weapons are being handled. As Joule fights her way through the rogue robots of Far Eden, she will have to rely on her rifle that has unlimited ammunition but tends to overheat after continuous use. The rifle that she uses will gain certain affinity as you progress through the game and depending on the type of enemies, the affinity that Joule uses will either increase or decrease in damage. Also, the rifle has the feature to do a charged attack and has the ability to snag a core from a robot. As for Mack, he has the ability to help Joule when in battle. By pressing the Y button, you can ask Mack to jolt electricity to an enemy to deal more damage. Controlling Mack isn't necessary as he moves by himself but for those who want Mack to focus on one enemy, always be on a lookout by pressing Y the button as the game gets challenging along the way.
Aside from being an action-adventure shooter, ReCore has RPG elements to it. For every enemy that Joule and Mack defeat, they drop a part. The parts that you get from enemies or in the world can be used to modify the parts of Mack and the other robots that join you. However, a blue print will be required. These blueprints are scattered throughout Far Eden and it's usually located in chests and that's why it's recommended that players explore through the vast reaches of Far Eden to get rare blueprints for Mack and other robots. Depending on the parts that you craft, Mack and the other robots can get powerful enough to defend Joules in times of need. Aside from parts, there are orbs that gets dropped if Joule uses her rifle's extract ability. The orbs that you get can be used in raising the stats of Mack or other robots. Of course, the more orbs you get, the more powerful Mack can become.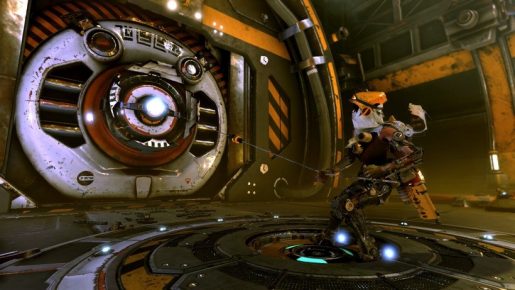 Thanks to Microsoft's PlayAnywhere feature for their Xbox-Exclusive games, I managed to play the game on my PC. For the most part of playing the game, I used my PC and the experience is enthralling. ReCore looks phenomenal – it's visual clarity is insane and the colors are just popping. I rarely saw any hiccups or pop-ins and this is all thanks to my GTX 970. The frame rate is smooth and basically, the performance by playing it on PC is superb. As for the quality on the Xbox One, it's abysmal. For those who are playing it on Xbox One, the quality isn't as good as the PC version as there is stuttering in frame rate, long loading times, frequent pop-ins, and the textures aren't as clear. Though when it comes to character models, Joule and Mack look good. The technical problems of ReCore on Xbox One can be pretty much seen when you're in Far Eden but when you're inside a dungeon, the textures load fine and the frame rate is much better.
While the game looks beautiful depending on what platform you are playing, there are things that may bother some people when playing the game. With a lot or robots that you get to fight in ReCore, the majority of them look almost similar. If there's anything different between them, it would be just a change of colors. Despite having a bestiary that gets filled up as you fight through enemies, you'll notice that each enemy looks pretty similar to one another, thus the designs of them are somewhat lacking in originality. Though when it comes to the environments and level designs, they are well designed as each, especially the dungeons as they give so much variance that makes platforming more fun.
Verdict
ReCore is a decent action-adventure game. It lives up to the hype and for $40 and you pretty much get what you paid for. Everything about ReCore is good but it all goes down when you realize that you've been doing the same thing over and over again and that's getting cores from one area to the next. The platforming segments are well crafted, the characters are lovable, the combat system is satisfying but it all comes down to the repetitive chore that you do and that's getting the cores. Not to mention if you are playing on the Xbox One, prepare to see a lot of technical problems such as long loading times, pop-ins, and frame rate issues. If you have a PC that can handle Ultra settings of ReCore, definitely play it there.
[Editor's Note: ReCore was reviewed on both PC and Xbox One platform. The game was provided to us by the publisher for review purposes.]
ReCore (Xbox One/PC) Review

,