It has been a while since we got a new King of Fighters and a lot has changed since then. In light of that, King of Fighters XIV has made some steps to embrace these changes. These include new characters, updated favorites, more cinematic elements to the story, online and offline multiplayer and training modes. With so much to discover, is King of Fighters XIV worth getting into or is a forgotten relic that should stay forgotten?
Like previous entries, King of Fighters XIV has a story mode with multiple cutscenes, dialogue and a fair bit going on. However, the story itself isn't terribly interesting unless you go down one of the specific paths. For most of them it's just hype and jokes leading up to a final fight, which is just more build up to another more final fight.
While the story itself isn't terrible, it also isn't anything special either. Sure there is some depth in the more specific paths, but for most it's a fancy arcade mode with some brief breaks between rounds. But the real highlight is the combat.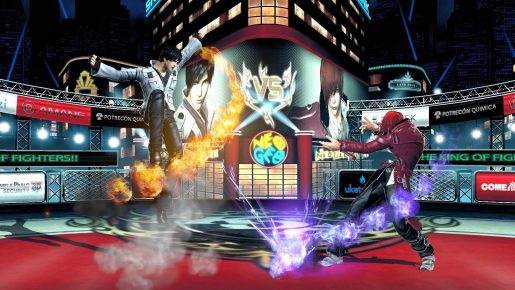 The combat system, for those who've never played King of Fighters before, is very similar to Blazblue, Guilty Gear or Street Fighter. Most of the attacks can be strung together by using light or heavy attacks and more complex moves that require additional inputs. The great thing about King of Fighters is the wide array of character choices.
These include characters with weapons, grapplers, heavy hitters and plenty of quick strikers. The nice thing is that they all offer different advantages and disadvantages. These range from a lack of combo potential, requiring you to play offensively or defensively and a vast variety of other ways.
Part of the draw is how fluid the combat can feel. The movements are sharp with enough depth to punish someone for making an error or completely lock them out. A lot of the moves are also pretty flashy allowing for some exciting gameplay. Especially given the diversity and overall style some of these characters have.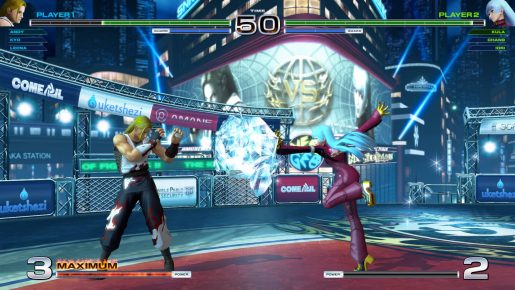 The biggest downside to King of Fighters XIV is how it treats newcomers. Unlike Guilty Gear or even Street Fighter, King of Fighters XIV training/tutorial is something of a joke. Instead of giving you an in-depth mode that helps newcomers get acquainted with the characters, something especially needed for a series that has been gone for a while, there are some tutorials on basic mechanics and a couple of combos per character.
In some ways this choice makes sense, when you consider just how many characters and styles there are, but it also does a disservice to any newcomers. For many this will be their first King of Fighters, so the need for such a mode is far more important than Street Fighter, where people have experienced it for years. Especially when some characters are especially tricky, like Billy and his cane or some of the larger characters.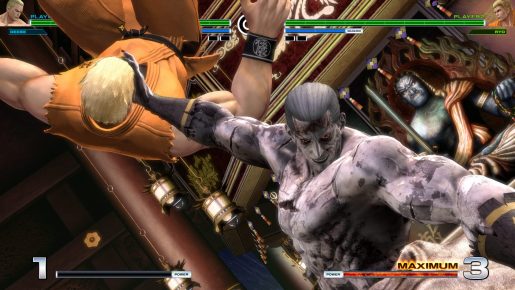 Even though training is a little lacking, there are a handful of offline modes to experience. These include score attack, survival and other standards. While these modes are nice, they're basically different spins on the same core concept. You fight other groups under various conditions and after so many rounds or your defeat, it ends. But it should be plenty for anyone looking for something to do. Even more so if you want to complete the gallery.
Verdict
King of Fighters XIV is a strong core with okay everything else. The cast is diverse, a lot of fun and filled with plenty of character/style, but it will be hard for newcomers to master. Between the okay tutorial, fairly standard modes and story mode, there is a few things to be excited for, but this is mostly for hardcore players. The different characters will keep them interested with the online mode being the main attraction. In the end, King of Fighters XIV is a good fighter that is meant for hardcore players, so unless you plan on playing a lot of online, this probably isn't for you.
[Editor's Note: The King of Fighters XIV was reviewed on PS4 platform. The game was provided to us by the publisher for review purposes.]
The King of Fighters XIV Review

,