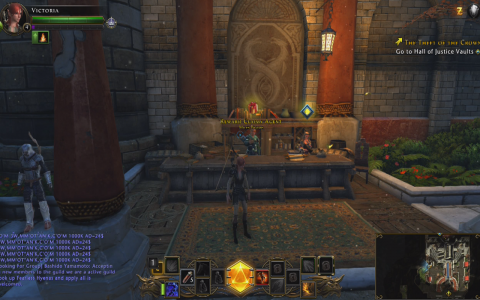 Starting a new MMO can be tricky, especially when you're bombarded with new information, so finding your promotional/bought items can be a hassle. If this sounds like an issue you're having, the guide below will show you where to find and use them.
Finding the Vender
To find the vendor, you first have to complete the introduction. There is a couple of quests that take you to a bridge, where you fight a boss and then go to town. After this you'll get the Rages to Riches quest, which will have you go around town and obtain a costume. To the right of the first person you talk to are two NPCs. The one with a treasure chest above his head, pictured above, is the one you need to talk to.
Selecting your Items
Depending on what you've bought or done the vendor will have different items waiting for you. Most of the ones pictured here are for early access buyers, with the companion being a reward for linking your PSN and ARC account and the Onyx costume being a PSN exclusive item. To get the costume you have to buy it from the store, which is currently only possible by checking the add-ons section on the PlayStation 4.
Using your Items
Before you can equip your items, you need to actually open/obtain them. This is done by opening the options, selecting items and then equipping or looking at the items you obtained. Upon doing that you can use them and run around in style.