When Monster Hunter first released it was something else. It had depth, plenty to do, RPG elements and so much more. In light of its success, a number of companies attempted their own take on the genre. Among them was God Eater, a fast paced and edgy take on killing large enemies and harvesting them for armor/weapons. With a dark story, techno music, large enemies and plenty of missions, is God Eater worth experiencing or is it a terrible attempt at being Monster Hunter?
God Eater is set in a post apocalyptic future where humanity is on the brink of extinction and you're part of the last line of defense against the enemies known as aragami. Unlike most games in this genre, God Eater actually has a lot of story and things going on in the background. Characters die, secrets are revealed and there is a dark undertone that makes the story exciting to experience. Especially if you enjoy anime, as God Eater take a lot from what you'd expect from an anime series.
To help with the mood, God Eater has improved visuals, making it look significantly better than its PSP counter part and a great soundtrack. The mixture of melancholy sounds and techno beats gives you a sense of despair while still highlighting the futuristic elements of the series. Not to mention, some of the vocal songs are quite nice, even if their undertones are quite sad.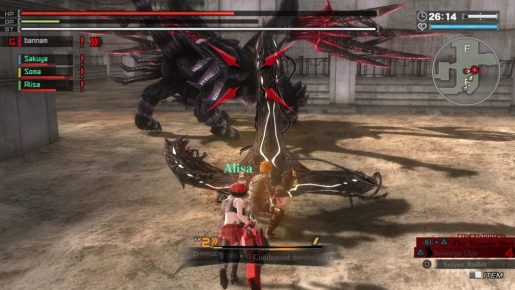 Beyond the story, which is a massive part of the God Eater experience, is the actual gameplay. There is a light attack, heavy attack, jump, evasive dash, items and other standards. In addition to these things, God Eater gives you the ability to swap between a bladed weapon and gun. Both forms have different types of weapons/bullets, which will help or hurt you against certain enemies. You can also consume a part of the enemy or have a teammate give you a special bullet that will aid you in combat.
Unfortunately, the basic combat isn't terribly deep, with most of the depth coming from the enemies themselves. The trick isn't to learn specific combos or switch between your weapons, but rather, read your enemy and react to the situation.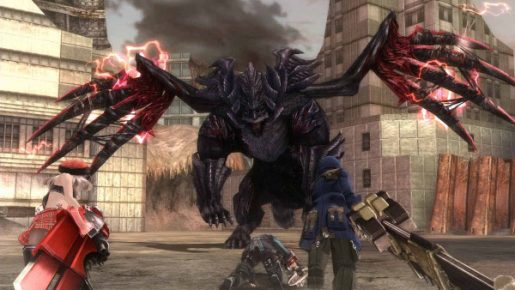 Every aragami has a number of attacks, most of which are telegraphed through visual or audio clues, that you need to account for. Even against the simplest of enemies you're going to need to learn their pattern or you will constantly die. This becomes more important as you progress, since this will determine if you succeed or fail against some of the later bosses.
In addition to reading their attacks, you also need to learn where to attack. This is for two key reasons. The first is that you can prevent certain attacks if you bread a specific part of their body. So if you don't want to deal with sound wave area of effect, simply break the horn and they will be rendered unable to preform that attack. The other is certain materials used to make better gear come from breaking specific parts of the body. So if you need a feather and feathers come from the wing, odds are you'll never get it unless you break a wing or two.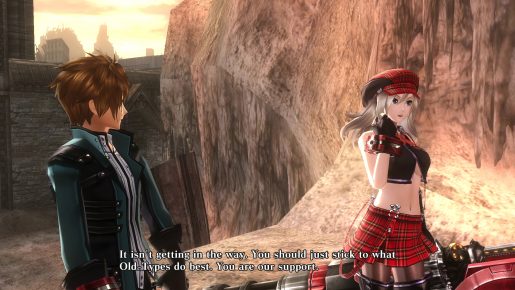 While this might sound easy to do, one of God Eater's biggest shortcomings is the A.I. Considering God Eater was designed to be played with others, certain fights are harder with the A.I., mostly because they don't do a whole lot to aid you. Each character has a specific style and can aid you in different ways, with commands allowing you to control the flow of battle, but even with these things the AI simply isn't as fun or effective as a decent online team.  This makes solo play a little more difficult and a lot more frustrating, but overall it isn't too bad.
Progression is also a lot of fun in God Eater, since it's a very visual game. Collecting pieces will give you weapons and armor that resemble the enemies they came from, with their own flare. In addition to that, some of the abilities and additional power ups will help accommodate your playstyle. So if you want to be precise and slow, you can do that or you can rush and just swing your sword like a mad person in hopes of winning. As long as you pay attention to the key points, you should find some level of success by utilizing these things. Especially if you make full use of your bullets.
Verdict
God Eater is an enjoyable Monster Hunter-esque game, even if it lacks some of the subtitles. The story, which is in English if that matters, is interesting enough for people to get invested, but not complex enough where you'll forget things between events. The enemies and combat might seem simple, though there is more than enough to master if you want to chase after the hardest foes. Sure the A.I. is stupid and there could be more diversity, but the overall experience should make RPG and Monster Hunter fans satisfied.
[Editor's Note: God Eater Resurrection was reviewed on Vita platform. The game was provided to us by the publisher for review purposes.]
God Eater Resurrection Review

,