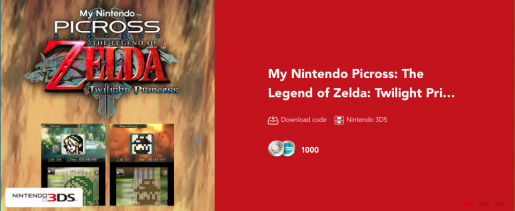 After months of rumors and teases, Nintendo finally released Picross: The Legend of Zelda: Twilight Princess, but instead of selling it, it's a My Nintendo reward. Considering the game costs a hefty 1000 platinum/Miitomo coins, meaning it will wipe you out for the foreseeable future, is the game worth the price or are you better off waiting for something in the future?
Picross: The Legend of Zelda: Twilight Princess, starts the same way Pokemon Picross did. You're given a couple of tutorial levels that explain the basic logic behind Picross. These tutorials are extremely boring, especially for experienced players, but can also be invaluable for newcomers. They include ways to deduce solutions, tips to reduce the amount of uncertainty on the board and other general information. After the introductory five puzzles, you unlock three modes and a lot of puzzles.
There are 45 basic Picross puzzles, another 45 Mega Picross puzzles and one Micross puzzle. Even though there are a lot of puzzles in Picross: The Legend of Zelda: Twilight Princess, many of them have a vague association with the series. Expect things like lanterns, apes and other such things to fill the total, which isn't surprising, but it makes the solutions less exciting than say Pokemon Picross, where every puzzle is a pokemon.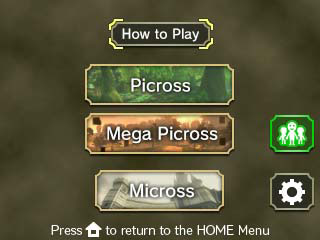 Once you get the basics down, is fairly accessible to fans and newcomers alike. You can choose to start the level using hint roulette, which is a fancy say of saying, you'll be given the solution of one horizontal line and a vertical one. These can make puzzles significantly easier, so those looking for a challenge are not advised to use it, where as someone who has issues figuring them out should probably consider it.
In addition to that, there is an auto correct feature that can both defeat the purpose of the game and make the puzzles more frustrating. The idea is simple. If you fill in a space incorrectly, it will add a massive amount of time to your total and give you the correct solution. The issue is that you might accidently hit a space or its something you would've realized later on, so it probably would've worked better as a a button, instead of outright telling you. The other issue is that you can randomly guess until you eventually get the solution, take a picture of the correct solution or the vast majority of it and then redo the puzzle to get a more desirable time/unlock the colored version.
In all and all, Picross: The Legend of Zelda: Twilight Princess is a surprisingly robust game, especially considering how easily you can unlock it from My Nintendo. While it has some flaws, like it's impossible to fail a puzzle if you have auto correct on and there could be simpler puzzles, it still has ample content for those interested in Picross. And, even if you're not a fan of Picross, it's a decent entry into the series that doesn't have a bunch of time/pay walls like Pokemon Picross has.