Marooners is a colourful game reminiscent of the mini-games seen in a Mario Party title, from developer and publisher M2H. Attempting to offer gamers "chaotic party madness", Marooners has just launched on Steam via the Early Access feature: which lets developers release an early build of a game and develop it alongside a playing community.
The aim of the game is, like all party games, simple. Across the range of game modes collect as much treasure as possible; to stand victorious on the tallest rising podium at the end of the round. Basic concept wise Marooners sounds like any other party game. The twist is the game modes constantly switch during a round, back and forth whilst keeping the progress made in each individual mode.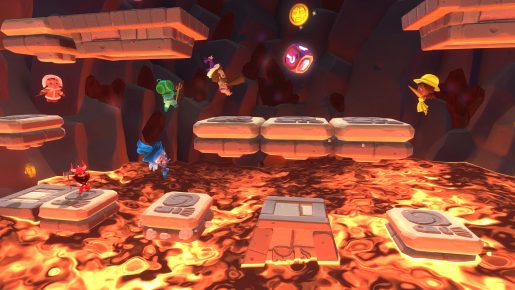 One issue that may stop Marooners being a top family party game is the very feature that separates it from other titles of the genre. When players first pick up the game, being thrown one way or another, game mode wise, may be confusing. Given time and this feature does help give the gameplay the much needed fast paced feeling with players being kept on their toes. Some may find this irritating wanting to play full rounds of the individual mini-games and presently this is not possible.
This could help those truly casual gamers or family members who are normally non-gamers. The constant switching means by the time some players will have worked out what the objective is on a level it will be about to change. The intuitiveness is, as a result, affected. By offering the ability to try out each game mode separately new players would be able to determine the objectives, despite them being simple, before jumping into the switching mode.
Marooners (Early Access) Review

,