We all have regrets. Moments in our past that we'd like to change. Regardless of what they might be, for better or worse, we have to live with them; but what if we could change the past? While it's the most cliché time travel set up out there, Enter the Gungeon uses it to explain the existence of the gungeon. With crazy guns, secrets, some lore and plenty of enemies, is Enter the Gungeon the next big thing or is it an underwhelming rogue-like that thinks its better than it is?
Enter the Gungeon is about a gun that's capable of, as the game puts it, killing the past. This is an important distinction to make, since it shows that Enter the Gungeon is perfectly aware how silly the premise is. Instead of serious bosses that have complex lore attached to them, we have a vast array of gun themed enemies with silly puns for names. The Beholster is modeled after The Beholder monster in Dungeons and Dragons; The Gorgun is a gorgon with a gun and some are just random, like an anaconda named Ammocanda.
Even though the premise is silly, Enter the Gungeon still attempts to tell a couple of stories through optional events. Over your many playthroughs you'll encounter several prisoners; there is a hidden dungeon that houses the old king; exacting revenge against Blockner for Manuel and meeting the blacksmith on the final floor. This last one is particularly important, because she introduces the method to getting the true end.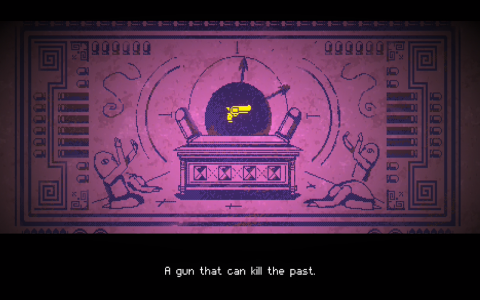 Like most roguelikes, its not enough to get to the end of the gungeon, kill the boss and get the gun. What makes Enter the Gungeon special is that the key is built into the very concept. While you might obtain the gun that can kill the past, you still need a bullet, which is broken into four pieces across all the main stages besides the first tutorial floor. Each piece requires different skills to obtain, with some of them not being possible on certain runs.
What makes Enter the Gungeon interesting isn't the silly enemies or lore, but the gameplay. Holding true to its name, the gungeon has a vast array of weapons that are filled with references, gimmicks and more. The light gun fires light, with the last round firing a duck; super meat gun shoots razor blades that bounces off the walls; the barrel shoots fish and the betrayer's shield can deploy a shield upon reload.
In addition to having unique properties, the attention to detail is impressive. All these guns have different designs for their ammo, so the barrel shows fish, with the fish it fires flopping on the floor in a small pool of water. Not only does it make each gun stand out, it fills you with a sense of wonder each time you locate a new gun.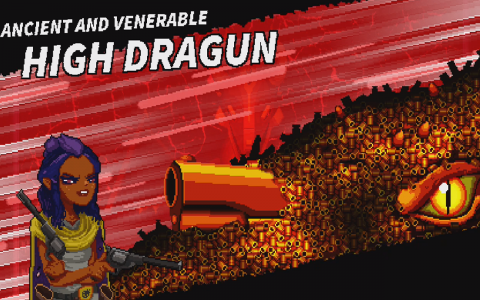 Speaking of wonder, Enter the Gungeon has more going on than meets the eye. As previously mentioned, there are four pieces that form a bullet hidden across the main stages, but there are other secrets to discover too. Many floors have hidden rooms that can only be found by shooting the wall with something besides your starting pistol, with the first two floors having hidden optional dungeons.
These are the type of things you'll no doubt notice and maybe even find weird, but probably won't figure out until much later in the game. This holds especially true for the second dungeon, since its requirements are more abstract.
With this being said, Enter the Gungeon is far from perfect. Passive items can range from being invaluable to downright confusing. Like mimics are extremely uncommon, yet there is an item that makes them even less common. Its understandable that some items exist to ruin your perfect build/waste your resources, but this is true for the majority of passive items I encountered.
Active items face similar problems. Active items are skills you can activate to give you an edge. One gives you a free blank, an item that clears all projectiles on the map, another grants invincibility, where as others point to the exit or briefly grant flight. To make matters worse, active items also tend to be pretty rare to begin with. It wasn't uncommon for me to go 20 or 30 floors without obtaining a single one.
This can also, sadly, be said about certain guns too. Throughout my various attempts I would notice certain guns are unusable in most situations. Heck, I found a number of guns were a bigger threat to me than the enemies. It got so bad that I would use my starting pistol over the trashcannon or a number of other guns. This is especially true for bosses, where DPS will be decide whether you're successful or unsuccessful.
Another big problem is the surprisingly long load times and occasional lag. There were a number of occasions when the game would freeze for a second and then start back up. Normally this isn't a big issue, but its frustrating when that delay results in you taking damage. As for the load times, well, it can take around 20 seconds for a map to generate on the PlayStation 4. Thankfully, once the map has loaded there aren't many issues, besides the previously mentioned lag.
Verdict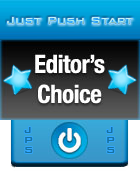 Enter the Gungeon has some flaws, but it's a lot of fun to play. Between the unique weapons, secrets and items being added in the future, there is more than enough to see. Sure the lag can be frustrating, it will take a while before you learn how to play and several enemies can feel incredibly cheap, but it's a journey worth the investment. Just be warned that the bosses can be incredibly overwhelming at first, but once you master rolling (basically jumping over bullets), timing your blanks and learn their patterns, that feeling will mostly go away.
[Editor's Note: Enter the Gungeon was reviewed on PS4 platform. The game was provided to us by the publisher for review purposes.]
Enter the Gungeon Review

,