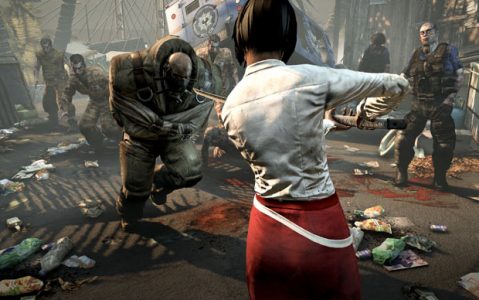 Deep Silver is pleased to announce today that Dead Island Definitive Collection is now available to pre-order starting today.
Dead Island Definitive Collection is a compilation of all three Dead Island Games that include: Dead Island, Dead Island: Riptide, and Dead Island Retro Revenge. The Collection will be available digitally on May 31, 2016 for PS4, Xbox One, and PC for $39.99. Those who will pre-order the game today on PlayStation 4 via PlayStation Network will receive a free PlayStation 4 theme.
Here are the new features:
· Higher Quality Textures
Game textures have been redone in a higher resolution and the level of quality has been improved across the board

· Photorealistic new lighting system
The lighting system in the game has been vastly improved, providing a much more realistic look to the beautiful sunny tropical setting

· Physically based shading
The introduction of new physically based shading techniques means a higher quality look to the game models and objects as they react in a more realistic way to various lighting conditions

· Image quality enhancements via anti-aliasing
The addition of more sophisticated anti-aliasing means that console players can now experience a much cleaner look throughout

· Improved-quality game models and geometry assets
All major geometry assets (i.e. NPCs and character models) highlight a marked quality increase

· HBAO and motion blur effects
The introduction of Horizon-based Ambient Occlusion adds an extra layer of depth and realism to the world. Through a better implementation of object shadows and the all-new motion blur effects, players will get a much more cinematic feel to the game experience.

· Updated game UI
The updated game UI provides a more consistent look for Dead Island and Dead Island Riptide

· The Current-gen Console Experience
The Dead Island Definitive Collection will also of course take advantage of the latest console features such as Online 4 Player Co-op, PS®Vita Remote-Play (PS4(TM)), Share-Play (PS4(TM)), streaming and recording

· Power Fists Power-up
And last but not least, the fan favorite unofficial PC mod will also now be added to both products. Punch your way through the mayhem with craziest power-up ever!