One of the advantages for small studios is the ability to try new and different things. Instead of asking focusing on profits, mainstream appeal and other important marketing factors, some games come up with a neat idea and see if they can make it successful. This leads to series like Disgaea, Neptunia and a few other successful series, in addition to others like Mugen Souls or The Witch and the Hundred Knight, which didn't do terribly well. This is where Trillion: God of Destruction comes into play. With a single goal, defeating Trillion, a boss with 1 trillion HP, multiple quirky girls and plenty of dialog, is Trillion: God of Destruction a must play or a neat experiment that will only appeal to a small number of people?
Trillion: God of Destruction is about a mysterious monster known as Trillion appearing and presenting certain death if they're not defeated. The overlord and his brother both attempt to defeat Trillion, though both prove to be no match for the beast and fall in combat. The overlord trades his soul for another opportunity to defeat the beast, only to learn his current vessel is no condition to fight, forcing him to enlist aid elsewhere.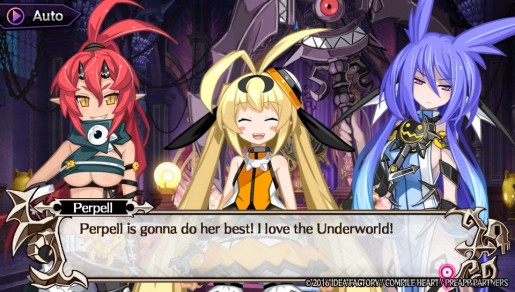 Most of the game's main story focuses on the dire situation and how seemingly impossible the task of defeating Trillion actually is. Even though the main focus isn't particularly cheerful, there are plenty of side stories, events and other things that flesh out the characters and are a lot more fun to read.
Like a lot of these games, the characters in Trillion: God of Destruction rely heavily on established character tropes, classic anime/manga problems and other cartoon wackiness you've no doubt come to expect from a Compile Heart game. Despite the lack of originality, there is still a lot of fun in getting to know the girls. Not only do they have a number of amusing interactions, there are multiple unique cutscenes with the girls showcasing their personalities, like Ashmedia is into gardening, which can give you a connection to these characters. However, since the situation is quite grim and Trillion is simply not a force that's easily dealt with, most adventures will end in tragedy.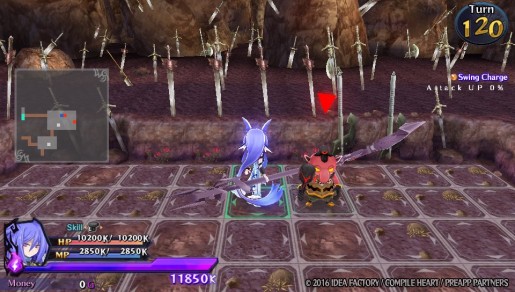 Due to the situation, Trillion: God of Destruction is set up around two concepts. The first is that anything and everything you do is to prepare for this fight and the other is that you'll fail, resulting in some or potentially all of the girls dying. It's a fate that's unavoidable, considering you're given a couple of weeks to train these girls, largely through cutscenes that give stats or random events and then need to fight a training dummy. After a couple of cycles you need to face Trillion, who mimics the actions of the dummy, and attempt to defeat him. This is a feat that will take multiple attempts to accomplish, though every girl has until she falls in combat or fails her third attempt. At this point the character dies and the story continues.
If there is a downside to Trillion: God of Destruction, it's that the adventure is basically a single fight sandwiched between a visual novel. Most of the gameplay is setting up your characters for their fated battle. You send them for training, focusing on the stats you want them to obtain, watch a cutscene and repeat. Every five days you can do a small dungeon that has cash, loot and other items to obtain, but said dungeons limit the amount of moves you can make, with only 11 enemies you can potentially fight.
The game quickly becomes an endless cycle of training, boosting affection with gifts, going through the dungeon, sleeping, raising said stats and then attempting a few training runs before the fated battle. For this reason Trillion: God of Destruction can feel incredibly boring.
Fighting Trillion isn't a fierce and exciting battle, as much as it's reacting to Trillion's attacks. Considering Trillion can, especially at lower levels, defeat you in a single blow, the fight is little more than seeing where he is going to attack (Its shown, stated and you even get a move count), avoiding and then returning to deal damage to him.
The fights themselves are pretty boring too. You can end up doing this song and dance for ten or fifteen minutes if your character doesn't die, with the fight ending with you retreating or Trillion moving too far forward. The other issue is that there is a lot of customization for something that really doesn't matter.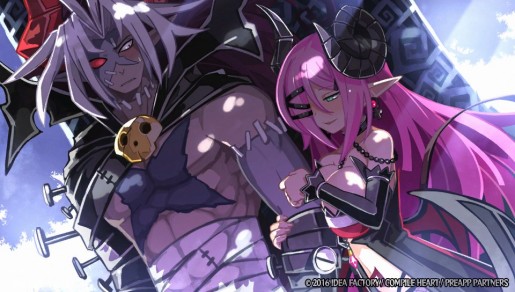 You can boost your character stats or obtain one of the countless skills, but the character's/fight segments aren't long enough to justify utilizing them. More often than not, you need to focus on what will do damage over getting a wide array of skills, obtaining the best passive abilities or doing anything besides attempting to defeat the beast.
Verdict
Trillion: God of Destruction can be an interesting experience, but only if you're willing to invest the time. The first time I fought Trillion I lost my overlord and it wasn't until my fourth or fifth attempt that I started to understand the mechanics. Combine this with a game that is almost entirely dialog between boss battles and it's an experience that will really only appeal to those into things like Neptunia. Combine this with a small selection of enemies, combat that is little more than repeating the same boss fight until you eventually win and you have a fairly underwhelming experience. Especially if you skip everything, as that can easily turn hours of play into like fifteen minutes of play, followed by a boss battle.
[Editor's Note: Trillion: God of Destruction was reviewed on PS Vita platform. The game was provided to us by the publisher for review purposes.]
Trillion: God of Destruction Review

,