Generally speaking, people like to play games with depth, because they're a more engaging experience. This is why series like Bayonetta are held in such high regard, but sometimes its fun to just hack and slash. It's a concept that's worked in Dynasty Warriors favor. By combining shallow gameplay with some deeper mechanics if you want to bother with it, Senran Kagura has quickly became a popular series. With a new story, additional side stories, simple gameplay and a wide range of playable characters, is Senran Kagura Estival Versus a must play or it a title you're ashamed to own?
Senran Kagura Estival Versus takes place after the events of Senran Kagura Shinovi Versus and tells the story of Ryobi and Ryona trying to put their sister's soul to rest. Its an interesting story that, much like other similar games, relies heavily on character interactions over the main narrative. Despite that, its still a solid premise and a good excuse to bring back important characters from the past and expand on the Senran Kagura universe.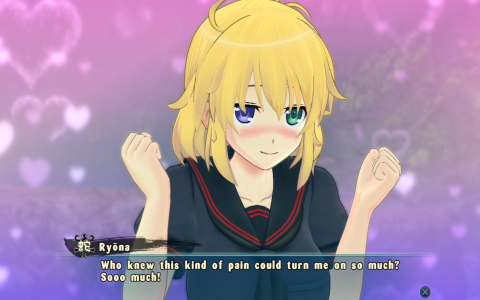 In addition to the main story line, there are also side stories that expand on the individual characters. Some are better than others, though its still nice to see them attempt to further flesh out the characters. Some of them even give you insight into their motivations or help you better understand what is going on and why its happening, but none of them are important enough where you absolutely must experience their segment to get the full experience.
Even though the story is a big part of Senran Kagura, the gameplay is also mindless fun. The average mission has you wondering around and fighting gangs of busty kunoichi. This is your standard Dynasty Warriors style gameplay, where each character has a couple of set combos, uses specific weapons and have a couple of super moves. Senran Kagura takes it a step further by adding a parry system, the ability to run on walls, change up attacks, plus even a couple transformed states with their own unique traits.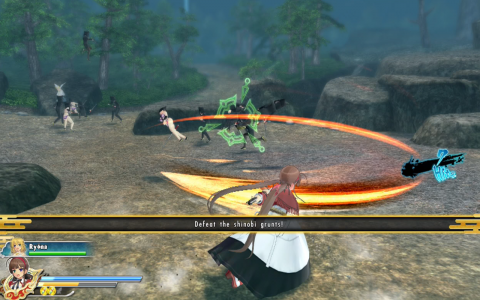 The variety is part of what makes Senran Kagura Estival Versus a solid experience. Characters are different enough to have their style, which is nice, but this can also be frustrating too. As fun as some character, such as Asuka (traditional dual sword hack/slash character), can be, there are other characters that require more thought/effort to make effective. Naturally it can suck being forced to play as one of them, though, at the same time, its always good for there to be more than 30 characters doing their own version of the same exact thing.
As for the enemies, well, they can be a bit dim. Typically you'll be able to defeat any and all threats by mindlessly pushing attack. Thankfully Senran Kagura Estival Versus attempts to change things up by creating larger enemies, flying enemies and other such threats, but rarely do they require much additional thought on lower difficulties. With that being said, Senran Kagura Estival Versus has an interesting take on the traditional life mechanic. Instead of showing a simple bar, enemies will lose clothing as their life decreases. So if someone is in their bra and panties, they have significantly less health than another person in full armor. Its an amusing touch that might lose its charm in the long term, but is perfectly fine for the short term.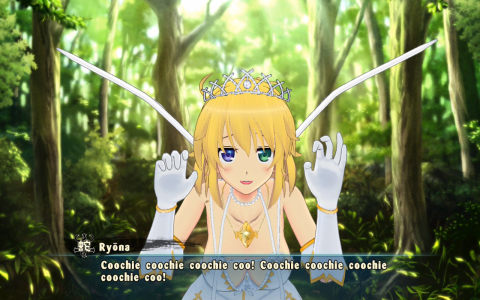 To further enhance gameplay, characters can unlock a number of costumes too. Most of them are pretty underwhelming, with others being a little on the pervy side, but its still nice to have the option. Especially since it gives you something to work towards besides levels or story progression.
Once you finish with the offline stuff, you can take the battle online. Here you can face waves of enemies, under a wide variety of conditions/rules and as a team or against everyone. The basic goal is to earn more points than everyone else by staying alive, killing enemies and stripping as many people as possible. The only downside to this mode is that, in my experience, online doesn't seem terribly active. It might be difficult to get a full 10 player room going, even at launch, so keep this in mind if this stuff is terribly important to you.
Verdict
Senran Kagura Estival Versus is a simple game with a neat story. Sure it has some elements people might dislike, such as Japanese voice acting or pervy aspects, but neither stops it from being an objectively enjoyable experience. Between the wide range of characters, neat story and somewhat active online, there is enough to see and do. Just don't expect a lot out of the story, deep gameplay mechanics or highly active online, as you're sure to be disappointed.
[Editor's Note: Senran Kagura Estival Versus was reviewed on PS4 platform. The game was provided to us by the publisher for review purposes.]
Senran Kagura Estival Versus Review

,