Action RPGs can be a lot of fun, since the battles take place in real time. Instead of relying on stats, luck and other factors, you're generally in control of your fate. However, in the case of Nights of Azure, you don't go into battle alone. Armed with multiple demon allies, an interesting setting, cryptic story and more, is Night of Azure a must have or is it a cool game in theory?
Nights of Azure starts with a fairly interesting premise. Years ago a demon was slayed was slayed, with his blood tainting the world around him. This caused demons, known as fiends, to appear and for an order to be established to defeat them. From there the story starts to rely heavily on common anime tropes, predictable plot points and generally follow traditional anime/manga beats. Despite this, Nights of Azure is still a satisfying experience.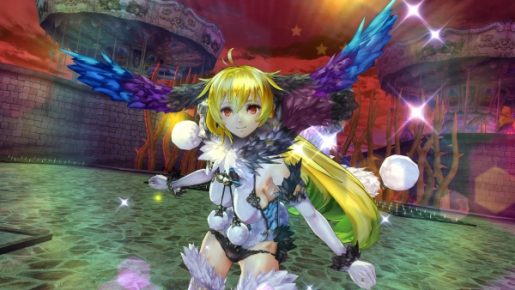 Part of what makes the story work, is that there is a diverse array of interesting plots, which are all beautifully accentuate by the games score. The love story between the two girls is gripping, with the lighter stories offering enough humor to provide a good break from an otherwise serious adventure. Plus the random events throughout the game help give the characters depth beyond their simply motivations or bland archetypes. Unfortunately, Nights of Azure starts a little too slow.
One of the problems with games that like to incorporate a lot of mechanics/tutorials, is that they can sometimes introduce things too slowly. It takes around an hour to get to the point where you get a new Servan, which is what this game calls summons, with it taking two or three hours to get to the point where you start getting different attacks. So you'll spend quite a while using the same six or seven combos and four Servan. This makes the experience painfully boring, which is a shame because the idea is sound.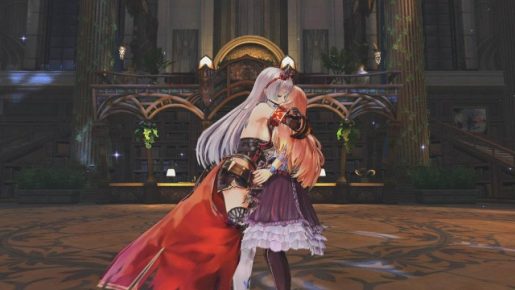 There are two main ways to attack in Nights of Azure. The first is to summon specific Servan, which come in various types, including a healer, tank, buffer and various attackers, that you can further command by having them use special attacks. These are handy for bosses, dealing with multiple enemies or simply changing the pace. The other way is by cutting down enemies yourself. This feels like your standard Dynasty Warriors gameplay, where you alternate between light and heavy attacks to perform combos to defeat your enemies.
As you progress you'll unlock additional Servan and different weapons to use. Figuring out the best weapon/Servan for a situation can vastly reduce the difficulty. However, there are also advantages to using certain things, such as dual swords giving more blood, so these details will also factor into your plan. From there you can further enhance your team with equipment, different skills and fortification.
Through the use of equipment, you can either enhance a Servan's innate abilities or attempt to make up for their weaknesses. So you might give your tank an item that heals, where as your healer might use defense/HP boosting perks. You can also further improve a Servan's build by picking the perks you want to boost when they level. You don't always get a choice and they're one or another, though its still nice to have some control. Blood can also be used to level your character, with various perks, equipment and more you can unlock. Some of these are important, though other things help the game move along faster.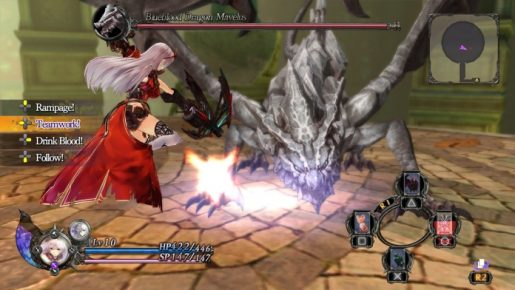 Perhaps the biggest problem with Nights of Azure is that there are various mechanics that slow the game down. As mentioned above, it takes a while to unlock stuff and once you get it, you'll only be able to take one quest at a time, missions have a 15-minute timer and so forth. Certain things can be upgraded, like quest count, but the time limit isn't much of a problem and quests make them feel more tedious than they should be. They seemingly exist for no other reason than to be annoying.
The same goes for downtime between story missions. Just because something is filler, doesn't mean it has to feel like filler. Like at one point you go from defeating a boss to chasing a cat for a ring that is special to the other girl, Lilysse. Naturally it would make a great side mission, but it shouldn't be part of the requirement to do the next chapter.
Verdict
Nights of Azure might be a simple game with a fair bit of annoyances, but its still a solid experience. The story, which is filled with clichés and predictable plot points, is still quite satisfying with enough depth to care about the characters. The setting, locations and general demons are done really well, as is the score, which helps sell the story. Even though the gameplay is a little on the simple side, you'll probably have a blast mowing down your enemies with various bladed attacks or using your Serven to dominate them. So if you're looking for a creepy, but interesting action RPG with a fair bit of comedy, then look no further than Nights of Azure. But if you want a deep action RPG with a serious and original story, this might not be your cup of tea.
[Editor's Note: Nights of Azure was reviewed on PS4 platform. The game was provided to us by the publisher for review purposes.]
Nights of Azure Review

,