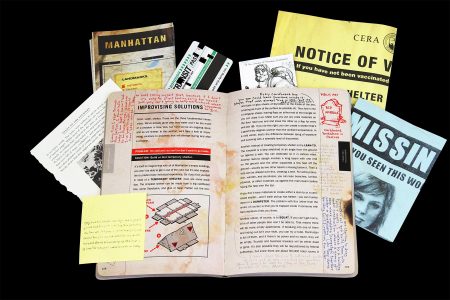 Companion books are an interesting concept. While they can potentially add untold amounts of depth to a game, they can also quickly turn into a shameless cash grab or fail to achieve their overall goal. In the case of The Division's New York Collapse, it's a resource that functions as both an amusing, somewhat, novelty book, in addition to a clever tie in to the game.
How does New York Collapse tie into The Division?
The book ties into the game a couple of different ways. The most notable way is through the survival book collectibles. Said collectibles depict pictures, writing and other information found in the book, though all the collectibles only make a small percent of the book. In addition to that, the book "belonged" to April Kelleher, wife of Bill Kelleher, who's a character that has a number of echos associated with them. Plus some of the images relate to the iconography that appears in the game, such as the who with the o being a skull and the question mark being a sickle.
Do you need The Division to enjoy New York Collapse?
Even though this is meant to be a companion book and has tie ins to the game, it also works as a stand along book too. The story it tells though long written segments in the margins, has some ties that lead up to the events of the game, but it's not enough to make the book confusing. Though you might not grasp some of the finer details. Beyond that, the actual pages function in terms of a survival guide.
There are a lot of useful tips, such as where to loot useful supplies, types of disease transmitted in water, helpful phrases in other languages, dealing with attackers and so forth. There's certainly enough there to actually consider it a useful guide that someone into, say, the zombie survival guide, would find interesting.
Overall quality is good
One thing that stands out about New York Collapse is that it's designed to look beat up, a little burned and certainly worn. Not only do those aspects look good, things like the cover, covers and so forth feel well done. It genuinely feels like a decent quality book, instead of being a cheap and sort of slapped together product.
What are the removable artifacts?
On a couple of pages there are little added bonuses that either relate to a puzzle or serve some sort of purpose. These include a wanted poster, transit card with holes punched in it, picture card, map and more. They're neat bonuses, though it's a shame there isn't a back pocket to store there or anything to do besides hiding them in the book or to the side to prevent losing them. Though, with that being said, don't expect much in terms of use.
Is it just a book with tie ins to the game?
Surprisingly, no. On various pages there are puzzles/riddles/mysteries and what have you to solve. Their solutions aren't always worthwhile, like one is a reference to A Christmas Story, but they're a little more thought out than a straight survival book or story detailing a character that is dealing with the events.
Is it a must for The Division Fans?
That's actually hard to say. Most of the books value isn't in how it relates to the game, but rather its attempt to explain how to survive urban catastrophe, puzzles and side things. The book also offers no in game reward, so don't expect to buy it and get a special costume, gun or anything, it's just a book. The book itself also doesn't have anything too shocking in regards to the games plot. It's basically a book that has some, arguably loose, ties to The Division that adds some depth to the game, but not enough to punish anyone without the book. So unless you really want to know more about the world or find these books interesting or at least the pages you can find in game, New York Collapse probably isn't for you.