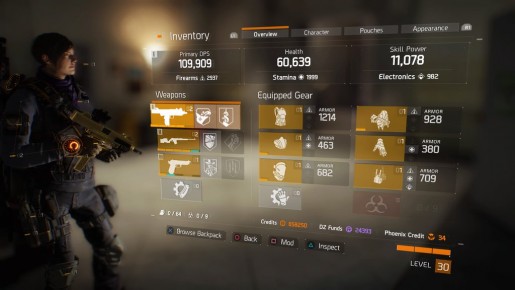 By now it seems the general consensus is that high-end drops are still too rare in The Division. With over nine slots to fill, countless categories for things to go wrong and plenty of things you simply can't get from blueprints, it makes sense. So players are getting a lot more creative with their ways of grinding, which is where this method comes into play.
Set Up
Four players required
All players should be well geared
An understanding of what they need to do
Have the upgraded Security perks unlocked
Guide
Select Russian Consulate and set the difficulty to challenging. Be warned, Russian Consulate is widely believed to be, at the very least, the second hardest mission in the game. For this reason you should focus on skills that hinder enemy movement. This is the best way to take out shotgun enemies  and will allow for your teammates to team shoot other enemies. Pulse also helps a lot here.
Progress until you get to the end. This is after you take the library, see the safe room has been broken into and you go up the stairs to see the courtyard outside. Move into the next room, without stepping foot outside, and take out the various enemies that spawn. Once they're defeated, have one person, ideally the one with the most armor/health, wait there as everyone else makes their way to the start of the mission.
Upon reaching the beginning, have those people head around the building until they make it to the gate where the mission ends. Have one player throw down a deployable shield, ideally one with the extra range, between the fence at a 90 degree angle and then have another player do the same thing. This should, if done correctly, allow you to glitch between the fence. At this point decide which one is the entrance and exit.
After setting this up, have the person waiting in the room move forward. This will spawn the boss, along with some enemies, but their only goal is to run to the gate and use one of the fences to get outside of the mission. If you're able to successfully do this, kill Hornet, the boss and then have the runner move back to the mission area and die. If no one else is in the mission area when they die, the mission will restart and you can repeat the process.