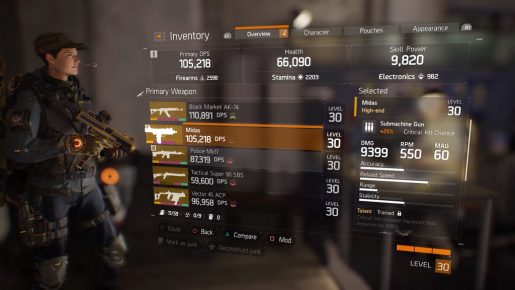 In The Division, like all loot games, a big part of the grind is about finding and obtaining the best possible gear. While some games, like Borderlands, have obvious tiering, The Division is less so. Some guns certainly outclass others, with a certain ones fulfilling specific roles or being useful in select situations, but the general stuff is sort of set in stone. Since these are common questions among the community, this guide will not only answer some of your questions, but help you learn the subtle things too.
DPS is a lie, don't listen to such and such does such damage and so forth
While DPS was probably intended as a simple way for casual gamers to get an idea of just how useful a weapon is, it's a very confusing and misleading stat. Not only does DPS make burst damage weapons look like garbage (a sniper can do 100,000+ damage in a second, but things like aiming, reloading, small magazine sizes and such tank its DPS score), it's also extremely dynamic. Not only is it affected by your firearms score, it's also affected by the mods attached. So if you hear someone say they got a gun at such and such DPS, keep in mind that it's probably inflated by mods/firearm score.
The other thing is to realize which stats are important to you. Accuracy, a stat that seems to affect bullet grouping, tends to increase DPS more than stability, though if you're more accurate with a stable gun, you'll ultimately do more damage. This holds true for any gun, because DPS is a theoretical stat that assumes a bunch of things based off fixed stats, such as DMG.
The final thing to keep in mind is understanding how stats make a difference. One common error is to use items that have the highest percent and assume that's best. However, there are many instances where additional stats are pointless. Like if your gun has 10 shots and you have an item that boosts the magazine size by 10.5 percent and 19.5 percent, they should both yield the same result, so only the other stat matters. Likewise, if a weapon has a low stat to begin with, it will typically yield lower results. It makes no sense to decrease the reload speed of a quick reload gun, where as the same perk could be invaluable on a shotgun.
Black Market AK-74 or Vector 45 ACP?
For most people, the first thing they want to buy with Phoenix Credit is a high-end primary. Sadly, there aren't many options. The general consensus is that the Pakhan/Liberator are terrible, odds are you'll be at this point long before your level 50 in the Dark Zone and unless you get super lucky, these are your only two options.
Generally speaking, the AK-74 does more consistent damage, has fewer requirements to get a good build, easier to conserve ammo, but has a lot of kick. It's best used as a burst fire gun, that's extremely difficult to control when going all out with it. While the Vector requires more luck to get a good roll, you can easily shred enemies by simply shooting their body. Killing enemies at range, which is a large part of challenge mode, will be your biggest struggle.
So the question is generally one of which do you prefer more. Even though many seem to prefer the Vector over the AK-74, they're both solid guns that will help you start your journey in high-tier PVE.