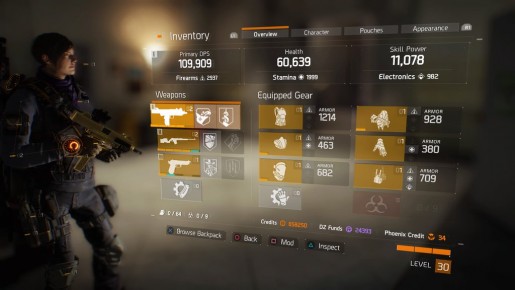 Since loot games are generally about, well, loot, the community is constantly looking for the quickest and easiest way to get all the best gear. Prior to the last patch it was killing named bosses (mostly Bullet King) in the city, since they constantly respawned and offered easy phoenix credits and equipment/materials. However, even though that method was patched, a lot of people have found a new boss to farm.
Start by doing the Madison Field Garden mission on hard and continue until you get to the roof. There you'll see an enemy named Hutch, which is your target. Ignore everything and try to kill him as quickly as possible, without allowing him to jump down. If you do it correctly, a new enemy will spawn beneath where Hutch died and this enemy will drop three purple drops and one to three phoenix coins. Once he's dead, simply let the enemies kill you and then repeat the process.
It takes about one to two minutes to kill him and a good source of equipment, materials and credits if you're starting out. Those a bit further will probably have better luck doing DZ or challenge missions.
Video Guide