By design anime/game crossovers work very well as fighting games. There you can have flashy moves, retain what makes the characters unique, focus on the characters in question and avoid expenses like large worlds, additional mechanics and things of the like. The only downside is that they tend to be fairly shallow or imbalanced, largely due to their highly budgeted/gimmicky nature. Now that we have the latest crossover fighter, Nitroplus Blasterz: Heroines Infinite Duel, bringing popular characters from Fate/Zero, Tokyo Necro and more to a fighting game, is it worth your time or is it a title that is basically exclusive to fans?
Nitroplus Blasterz: Heroines Infinite Duel features two story modes. The first one is little more than your standard arcade mode. You face a couple of enemies, with a super powered boss at the end. Between the fights there are some brief dialog, usually just setting up the fight, without much going on for any of the characters. That's not to say they're not enjoyable or at the very least interesting little arcs, just that there really isn't much to see. The second story fleshes things out quite a bit more.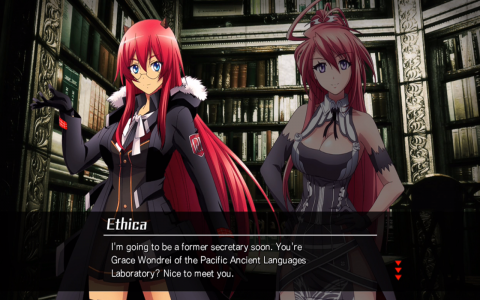 Another story deals less with setting up fights and more with fleshing out the world and interactions between the characters. Despite the story being a tad exposition heavy, it offers more of an experience that you would expect from a story mode. This mode also has fights between the story segments, though those looking to just experience the story can disable them. However, keep in mind that another story isn't particularly long and can probably be completed in an hour or so.
Similar to the story, the gameplay is there and better than you might think, but could certainly be better. For one thing Nitroplus Blasterz: Heroines Infinite Duel has a lot of mechanics, but I couldn't find an introduction to them or even an explanation of how they worked. This can make utilizing and mastering the controls fairly difficult, especially since training is your test your moves against an opponent mode. Now it does offer you some helpful tools, such as the time between attacks, what you input and so forth, but all this stuff is going to be lost on anyone who doesn't have the interest or experience to properly utilize these resources.
As far as actual combat is concerned, Nitroplus Blasterz: Heroines Infinite Duel is a by a numbers fighting game. Attacks can be linked into combos, performing more complex moves do a special attack, players can grab, dodge, break throws and basically do what you would expect in a fighting game. One of the nice things about Nitroplus Blasterz: Heroines Infinite Duel is that you can further your game by using different assists. These are special attacks that support characters can do, which when used effectually, can open up new combos or shut down annoying moves.
While Nitroplus Blasterz: Heroines Infinite Duel is light on content, as there is just the story (arcade), another story, versus, training and score attack, it does support online multiplayer. So if you get sick of fighting the AI, you can take the fight online and vanquish new foes or your friends.
Verdict
In the end Nitroplus Blasterz: Heroines Infinite Duel is exactly what you would expect from a budgeted crossover fighting game. There is a decent story, a couple of modes, cheap looking menus and okay gameplay mechanics. Sure it can be more balanced, the gameplay could be better explained and even the story could be longer, but for what it is, it's fine. So if you're expecting an experience that will rival Street Fighter of Blazblue, you'll probably be mistaken, but if you're looking for an okay fighting game that has some characters you love, you'll probably be quite happy.
[Editor's Note: Nitroplus Blasterz: Heroines Infinite Duel was reviewed on PS4 platform. The game was provided to us by the publisher for review purposes.]
Nitroplus Blasterz: Heroines Infinite Duel Review

,