Like a lot of RPGs, Megadimension Neptunia VII has a number of endings that you can unlock by either doing or failing to do certain things. These can range from getting a certain amount of shares to simply missing a certain event. What makes Megadimension Neptunia VII so tricky is, with the exception of the normal ending, odds are you'll fail to get the other two. To help you out, we made a brief guide to explain what you need to do.
Bad End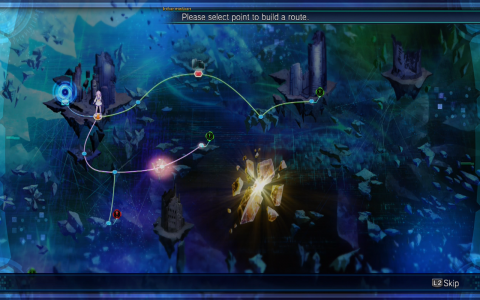 After you finish the first two stories you'll unlock a third one that eventually send you into the Heart dimension. There you'll see four events on the world map. If you opt out of viewing these events, then you'll unlock the bad ending. This ending does not offer a trophy, nor does it unlock anything, so don't worry about it unless you want to read the dialog.
Ascension Ending
Similar to the Bad Ending, all you need to do is view the four events pictured above.
Revival Ending
While this is possible to unlock on your first play through, I strongly suggest waiting until your second run. Not only is it significantly easier to do, you should have ample resources to vastly decrease the time. Plus an additional cycle is only like an hour or two if you rush through everything.
As for the actual requirements, you can find them all below.
Zero Dimension
View every event. This should happy by default, assuming you click every option under converse.
Hyper Dimension
Planeptune
From what I understand, these can be completed whenever you want, but I strongly suggest doing them as early as possible. This guide is also written with this in mind.
Before going to the Sakura Tree Row dungeon, head to the guild and accept the First, Some Practice quest. This quest requires you kill eight Dogoo, which can be found in the First-Gen CPU Sanctuary Dungeon.
Upon completing and returning the quest, select converse and view the Histoire event.
After this you can complete the Sakura Tree Row dungeon. View the new event with Histoire and Compa, which will unlock a new quest in the guild.
Accept Histy's Extermination on Request 1. This can be completed in the First-Gen CPUs Sanctuary Dungeon and requires you kill 10 Delinquent Cats.
Turn in the quest, view the event and then accept Histy's Extermination on Request 2. For this one you need to slay 10 Red Dogoo, a common enemy from the Sakura Tree Row dungeon.
Complete this quest, turn it in and finally view the last event. The final thing you need to do, assuming you haven't already done it, is increase your shares to 60 percent. The easiest way is to raise public relations to around level six, but you can do quests or other things too. Do not finish this section until you're certain you completed both of these events.
Lastation, Leanbox and Lowee
Get each continents shares to 40 percent or more and view a specific event located under the converse section of town. These events aren't noted, like story related ones are, with the event involving the nations CPU. Similar to Planeptune, do not progress until you're certain you viewed the event.
Heart Dimension 
View the four events required for the Ascension ending. If you successfully complete all these tasks, then you'll progress in the story beyond where it normally end. Please note, unlike the normal ending, you can complete every section and not have to restart unless you accept the new game message listed under converse.