Around a decade or two ago, there was a short lived digital pet fad. The concept was simple. You had this toy and after periods of time your pet would need attention and the basic goal was to see how long you could keep it alive. Among them were these things called Digimon, which were a little different. The core concept was there, but Digimon could also battle one another and transform into various different monsters. From there Digimon got a number of different anime series, became a lot more complex and more. Now Digimon is back with an all new RPG, Digimon Story: Cyber Sleuth, but will it be a joyous experience for fans or is the series better left in the '90s?
Digimon Story: Cyber Sleuth starts with a group of friends having a fairly long explanation of what Digimon are in a chat room. This even includes someone oh so helpfully reminding us that Digimon is short for digital monster. During this conversation, a mysterious person enters and identifies himself as a hacker. The hacker explains that he wants everyone to meet him in a specific location, an invitation that scares all but three people away. At this point you get to choose your character's name and gender and the story really begins.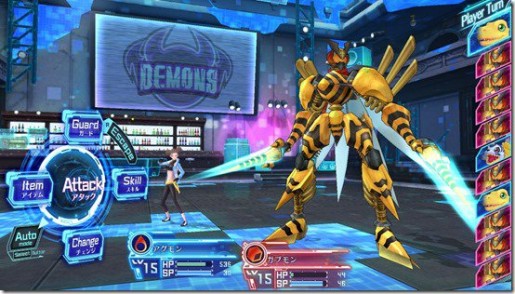 Following another series of explanations about Digimon, ethics and the digital world, you eventually log out of the internet to discover you're basically a digital version of yourself in the real world. You're rescued by a woman, only to discover you can transfer through various electronic/wired devices. Once you fix your image, you're tasked with going to the hospital where you discover your body and you start your quest to discover clues, help people and unravel the mystery and ultimately get your body back.
If you can't tell from the fairly beefy explanation, Digimon Story: Cyber Sleuth has a lot going on and throws a lot of concepts at you fairly quickly. Odds are you'll spend most of the first hour being introduced to various concepts, the basic story and all the side details so you have a good understanding of what Digimon is actually about. Even though the story eventually hits a point that might pique your interest, you have to be willing to invest the time to get there.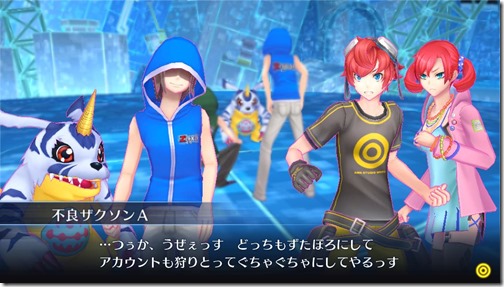 In several ways, that sums up Digimon Story: Cyber Sleuth gameplay too. At first you'll have a single Digimon, with a number of foes to defeat. As you defeat them, you'll gain points that after a certain point can be used to obtain that Digimon. From there you can train them, be it in combat or on the farm, level them and upon hitting certain points, gain the ability to evolve them. So if you get a Digimon to level 10, you can make this Digimon, but if you get it to 14 with 150 HP, then you can make this more powerful Digimon. It's a system that is painfully slow to begin with, especially if you're familiar with the franchise, but after a while becomes a very interesting or at least moves faster.
The same goes for combat. Even though there is a lot of depth to discover, early battles are painfully straightforward. I found myself winning almost every battle by using a special attack or two, with no real fear of dying or needing SP. Later battles don't require much more in terms of tactics, but as your Digimon collection grows/skills expand, you at least gain the option to use the mechanics to your advantage.
If there is one problem in Digimon Story: Cyber Sleuth, besides the long winded opening, it's that it feels like a budget title. Even though there is an open world to explore, there isn't much to the locations, objectives are clearly marked/no need to randomly chat with people and you can can't move the camera to see different angles. From there you can't skip or set scenes to auto, which is an odd design choice. Your character also doesn't get any formal dialogue, with all the characters replying to you (sometimes quite awkwardly). Worse yet, I found running in certain directions or moving a specific way can screw up the animation, slow down your pace or just make things plain awkward. None of these things help Digimon Story: Cyber Sleuth shine, which is a real shame considering the issue isn't a lack of effort per se, but that effort being isolated to specific locations.
Verdict
Digimon Story: Cyber Sleuth has some good elements, but they're quickly lost in a sea of bad choices. Even though the story can be interesting, it takes around an hour to get to the real premise of it. As deep as the Digimon evolution and maintenance systems are, the high time investments are certainly discouraging. Combine this with awkward running mechanics, no camera for exploration, fairly empty worlds, no English audio and you're left with a game that some fans will enjoy, but most others won't.
[Editor's Note: Digimon Story: Cyber Sleuth was reviewed on PS4 platform. The game was provided to us by the publisher for review purposes.]
Digimon Story Cyber Sleuth Review

,