This past year, Nintendo has made a lot of interesting choices that branch out beyond their usual confines. First we got the third person shooter Splatoon, then the ability to make Mario games and now we have a serious RPG, Xenoblade Chronicles X. Being the spiritual successor of the highly acclaimed wii title Xenoblade Chronicles, Xenoblade Chronicles X hopes to expand on what the original offered through larger environments, improved combat system and more. Given the success of the original title, can Xenoblade Chronicles X live up to expectations or is it too ambitious for its own good?
Xenoblade Chronicles X starts with an explanation that Earth lost a war with an alien threat and to prevent total annihilation, a number of ships were sent off in hopes of the human race living on somewhere else. One of those ships, the White Whale, crashes on the planet Mira, where the humans aboard set up a base, look for stasis units containing other passengers and find the core so they can start to rebuild the human race. From there the story touches on a lot of things, but through it all it questions what it is to be human.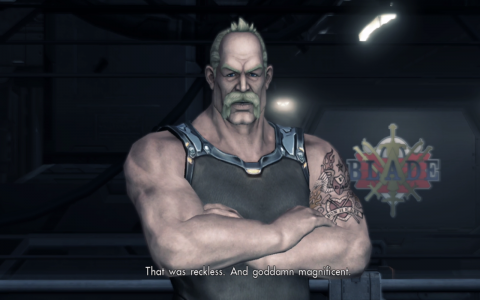 Almost every main character is a personification of some aspect of the human experience. Throughout the story and as these characters are fleshed out, you can start to see how their perspective shaped their overall arcs. It makes for an interesting overall message, especially when the Xenoblade Chronicles X itself isn't passing judgment on anyone and instead tries to emphasis with him or her, even if they don't agree with their choices.
While the story is rich in subtext, it's shockingly light in actual content. Not only does the story rely a little too heavily on Elma getting things where they need to be, she also doesn't have a lot of character. Even this would be acceptable if her dialog didn't feel so unnatural and unrealistic. In addition to this, the story itself is paced in a very awkward way.
At first the story seems fine, then we learn that the aliens, for whatever reason, fear us. Once you reach this point the starts to hint at bigger things and continue to do so until the last or at least one of the last cutscenes where all this stuff is revealed. This results in the story feeling rushed, almost as if someone wanted to tell a grander story, only to randomly decide they were done writing it. Combine this with the most interesting twist being outright stated before it happens and you're left with a fairly unenjoyable story.
Even though the story could be much better, the gameplay is quite interesting, assuming you're willing to invest the time to get to that point. At first the gameplay is confusing and at times feels needlessly difficult. Part of this has to do with how Mira is designed. Similar to real life, the world isn't separated by level, so you could fight and die to a level 40+ monster right outside of the starting area or you could find level five monsters located in the most difficult to get to locations. In addition to that, numbers exist to give you an idea of their power, not an actual indicator of what you can or can't do. A small level 50 enemy is significantly easier to kill than a huge level 30 enemy.
From there, Xenoblade Chronicles X feels like it was designed with post game in mind. At first huge enemies seem impossible to kill, TP is too scarce to spam skills or constantly activate your overdrive, two of more enemies are a death sentence and you get the idea. However, once you get your Skell you can make quick work of previously difficult enemies, eventually you'll have plenty of TP to spare and can cut down four or five enemies in a single slash. This is also just the tip of the iceberg.
In Xenoblade Chronicles X, weapon stats don't mean as much as the augments. With the right combination you could make short work of enemies you thought were impossible to kill without a Skell or make the most powerful boss seem like a joke. Naturally this makes choosing your weapons/armor a difficult task, since you could have a pair of pants that have two defense, yet the perks are so awesome that they outclass pants with 40 or 50 defense. All this stuff follows a set pattern, so a top tier level 20 item might completely outclass a low tier level 40 item, but a mid to high tier level 40 item should blow it away. Still, it can make a substantial difference paying attention to these subtle differences and picking the right set of perks for your character. All it takes is one weapon attack power up and you could easily have 25%+ more attack or do a lot more damage to a specific enemy.
Besides augments, you can further enhance your character through arts, classes, skills and soul voices. Arts are basically selectable abilities that let you do a specific attacks or moves to shift the tides of battle. Some of these moves are free, where as others cost TP, but they all have multiple cooldowns. That's the interesting thing about arts, you can use them immediately after the cooldown for decent to good damage or you can wait for that skill to fully charge and do good to great damage and if let it fully charge during an overdrive, you can do amazing damage for the same cost. While the time or TP cost might be the same, it does require you to plan accordingly. Sometimes holding out for the more damage is best, where as other times you don't have the luxury of time and need to use that move now.
Arts are tied to classes or more specifically, the type of weapons you use. Mastering the highest class of a specific weapon set will allow you to use those weapons/arts on another class, so you could eventually use dual swords and sniper or dual guns and longsword. These make for interesting dynamics, which you can mix and match to get the most out of your arts. Then you have skills, which are passive perks that grant various bonuses. Some of them increase your damage against a specific enemy, where as others boost your HP or aid you in some other way. Figuring these out can make your time in Mira a lot of fun or a never-ending nightmare. Even more so when you figure soul voices offer set perks/ability for doing specific things in combat and then pushing the prompt in time.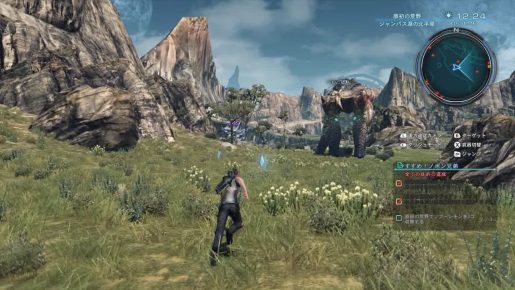 The only downside to these systems is once you know what works, there really isn't any reason to change. So just because you could use a perk that trades life for TP or inflicts a certain debuff, if you don't see the value in it, there isn't a need to ever see the value in it either. This gets a bit worse with Skells, as arts are tied to weapons and often times you can quickly end most encounters with the right couple of strong attacks.
Besides killing enemies and dealing with intergalactic evil, there is plenty to do on Mira. Every location is quite large with a number of places to explore, enemies to kill and secrets to discover. The only downside is that Xenoblade Chronicles X takes a while to load and all this stuff can seem overwhelming. Not to mention there is a lot of empty land, pointless locations and things of that nature. Still, if you like to explore, then you'll love the lush, diverse and vibrant world that awaits you on Mira. Not to mention an overwhelming number of bounties, side missions and character interactions.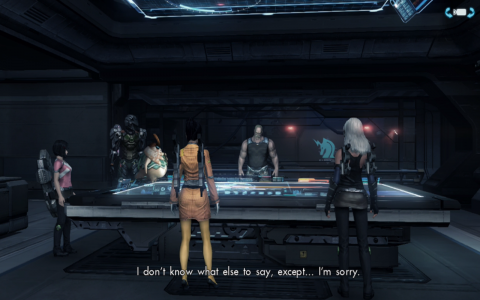 Verdic
While Xenoblade Chronicles X is a great game, it also has some serious shortcomings. Almost every aspect of the game, be it story or exploration, requires a time investment. If you don't mind spending 20 to 30 hours getting to the point where all the mechanics start to click and you can fully enjoy the experience, then I think you'll be pleasantly surprised by all that Xenoblade Chronicles X has to offer. However, if you just want to jump in and have fun, play quickly experience the story or just explore the world around you without anything stopping you, Xenoblade Chronicles X is not for you.
[Editor's Note: Xenoblade Chronicles X was reviewed on the Wii U platform. The game was provided to us by the publisher for review purposes.]
Xenoblade Chronicles X Review

,