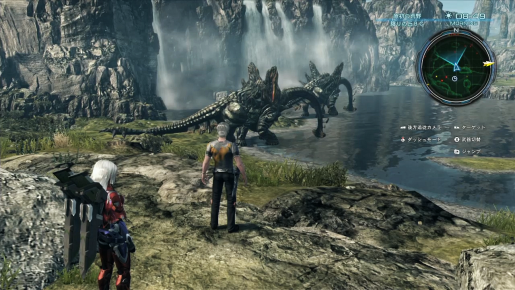 Starting a game like Xenoblade Chronicles X can be intimidating. Not only is there a lot to learn, but making the wrong choice can easily result in hours of additional grinding or worse yet, completely screwing up your character to the point where making a new character might be better than trying to salvage your current one. While Xenoblade Chronicles X doesn't really have a point of no return, here are some tips and tricks to make sure you make the most of your time on Mira.
General tips and tricks
Set up probes whenever possible. Not only will this create a guaranteed fast travel location, a number of story quests require some percent of an area explored. Plus it makes a lot of missions significantly faster when you can pop from point A to B to C.
Whenever you set up a probe make sure to change it to one that makes you cash or Miranium. With that being said, also remember that you have a cap, so there is no reason to set up 30,000, when you can only receive 10,000.
If you're unsure where to go or what to do, don't forget about the ball.
Whenever you increase your Blade rank talk to Eleonora. She does not have a prompt, but will still increase one of your skills and give you something for your room.
The best skill to level is Mechanical, as that will let you capture more probes, followed by archeological and then biological. The last one is only really useful in the last area.
Never accept a gather quest. Typically these can be finished whether you accept them or not by simply having the item in question. Plus the game will outright tell you whether you have enough to complete the quest or not. Also keep in mind that you can constantly revisit the quest area to receive different ones. This is a great way to quickly increase character affinity, as it's guaranteed to go up for doing quests and sometimes you can ditch pointless materials on an easy quest.
Items with a star give BP in the collectopedia. Outside of those, there isn't much of a point in filling in the other squares unless you can fill them all in.
Killing enemies above your level give a massive increase in experience. This is a great way to power level characters you rarely play with or need for a specific mission.
Remember that missions, killing specific tyrants and finding certain collectibles also count towards your survey total. This is a good way to complete the requirements for story missions, without having to do the same thing each and every time.
If you're having trouble doing something, try a different time of day. Some enemies are only hostile during the day, where as other enemies are hostile at night or in some cases you fight different, possibly easier, enemies.
Another helpful hint for tricky areas is to think outside the box. Occasionally I found success climbing mountains or attacking from a different angle.