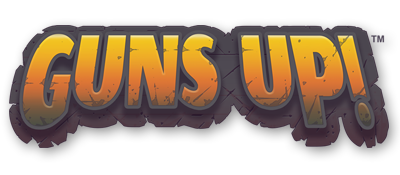 Joining the ever growing list of free to play games on the PlayStation 4 is Guns Up!, a strategy game that not only requires a plan, but luck too. For many free to play games the importance of luck would be overwhelming, but for Guns Up! It feels more like an added bonus. When push comes to shove, a good tactic or picking the right battle will mean far more than getting an awesome card to enhance your troops or make an epic play. Sure reloading faster or shooting more often will make a difference, but generally if these things are going to make or break your team, odds are you're going in under-prepared or your tactics need work.
At first most of the strategy is found in fortifying your base. You can purchase camps, snipers nests, walls and other things to protect your base, with the added ability to change the loadout, fortify your defenses, or even change which type of troop spawns where. Once you think you've figured it out, you can run a test battle to see just how good your defenses actually are.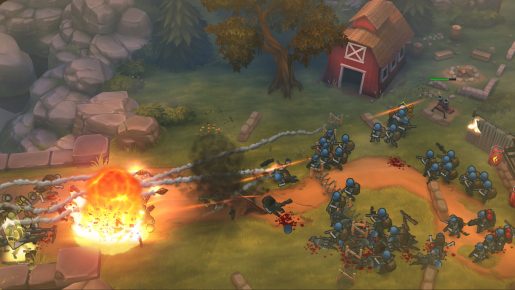 This is where Guns Up! starts to fall apart. No matter how good or fortified you think your defenses are, it's actually pretty difficult to lose an attack. All it takes is the right power up used at the right time and your biggest threat could be rendered useless or a single troop finds a single chink in your defense and there goes your sniper tower. This gets so bad that even when looking at the leaderboard you'll see an overwhelming number of players have lose more defenses than won. That's not to say you can't win, just that it's a lot easier to attack than defend.
Even though Guns Up! is a strategy game, you don't have enough control over the battlefield to make it feel like you need a strategy. I found that I could easily overwhelm my enemies by just summoning a lot of troops, using whatever perks I get to help take out the next most immediate threat and often times I would win by an overwhelming amount. Even against my own base it only took a well place decoy or two or a bomb in the right place to result in an overwhelming victory.
Despite the flaws Guns Up! manages to be fun, without making it seem like you have to spend money or you need to know the game inside and out to win. Sure it isn't as tactical as say Disgaea, but for a pick up and play game you'll probably get more than a little enjoyment and as you progress, a number of options open up resulting in the ability to not only make a genuinely terrifying base, but also create an unstoppable fighting force.