When Fat Princess originally released, it was met with mixed reactions. While the cute and colorful game had unexpected levels of violence, it never really took off and became a popular game. Despite that, the series was still brought to other Sony platforms, got a mobile game, some DLC and now a spin off, Fat Princess Adventures. Taking most of the tactics out of the tower defense game and making it a simple action RPG game, can Fat Princess Adventures find success where the original did not or is this a game trying to capitalize on an odd property?
Fat Princess Adventures tells a fairly goofy story about an evil princess trying to take over Great Bitten and how you need to stop her and rescue the princesses. There really isn't a lot of depth, nor is the story that memorable, but most of the fun is found through character interactions. There are a number of side quests and pointless side conversations that offer silly jokes, humorous situations and other goofy things. Fat Princess Adventures is quite aware it's a silly game and that never stops it from playing towards this, not against it.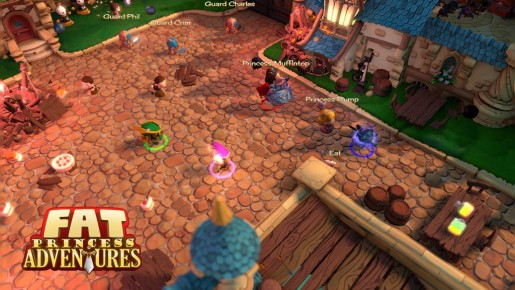 As for the combat system, well, it isn't terribly different from the original. The four original classes (archer, warrior, mage, engineer) are included and they each have different advantages and disadvantages. The knight can easily break defenses, archer has range, mage has less life and so forth. All these things can be further enhanced or changed through gear that you'll obtain through treasure chests and random drops.
Since Fat Princess Adventures is an RPG, every piece of gear has stats, in addition to having various perks. The spiky warrior armor does damage at close range, the flame sword can cause enemies to burn and so forth. These weapons can be upgraded for more damage, allowing you to pick and choose your favorite weapons, instead of constantly hoping for better drops. I found that drops were fairly common; so don't expect a lot of grinding for most of your equipment.
Speaking of equipment, you can also customize your character with a number of different options. A small selection of things are available at the start, with a wider array of choices appearing as you progress though the game. These range from hipster glasses, piercings, skin color and things like that. The only downside is that most of these items don't look practically good with the art style.
Perhaps the biggest problem with Fat Princess Adventures is how bad it looks at times. Cutscenes have characters moving and doing things, but you won't see them moving their mouths to speak, some customization items look tacked on or flat out unappealing and even basic things look out of place. These things won't typically cause problems while playing, but it's hard not to notice this stuff at times.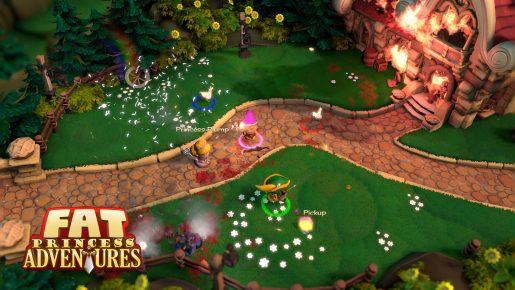 Fat Princess Adventures also suffers from a fairly straightforward combat system. Most characters and weapons have a normal and charged attack, plus some kind of secondary attack that offer a tactical advantage. Some of these things help against certain foes or make situations easier, but for the most part, you'll just keep pushing attack until you win. Thankfully playing with others can open up new tactics, though be warned there doesn't seem to be many people playing, but more often than not you'll go from point A to B pushing attack a lot with little to no resistance.
With that being said, the bosses do offer a little more variety than your standard foe. Some of them require specific tactics, certain moves or being away of certain things. The only downside is that these fights can be fairly long, quite tedious and woefully easy to die. Like one of the fights you have to turn enemies into chickens, so it wasn't uncommon for me to accidentally do that and then die, resulting in having to redo the whole fight because I missed a single move.
Verdict
When push comes to shove, Fat Princess Adventures is a silly action RPG that doesn't try to be more than that. In some ways that's good, like the story has a couple of funny moments because it isn't taking itself too seriously, but in other ways that's bad. Like the combat really isn't that engaging and for that reason it can feel boring at times. The RPG elements can also feel fairly gimmicky, especially since there is often no point in them, but that doesn't stop Fat Princess Adventures from being fun. So if you want a simple action RPG, you'll probably enjoy, especially if you have friends that play, but if you want a deeper game or at least a serious one, you'll not enjoy Fat Princess Adventures.
[Editor's Note: Fat Princess Adventures was reviewed on PS4 platform. The game was provided to us by the publisher for review purposes.]
Fat Princess Adventures Review

,