One of the biggest issues a franchise needs to overcome is being more than just another title in a series. For years this has been one of Pokemon's biggest problems, since the games themselves are pretty standardized. Pick a new location, toss in some new and old Pokemon, talk to someone who lets you pick a water, grass or fire starter, meet your rival, defeat some gym leaders, deal with some criminal enterprise, defeat the elite four, go after some legendries and repeat. This is where spin-offs come into play. While the aforementioned things make Pokemon, well, Pokemon, spin-offs let you take approach the core concept without alienating anyone. In the case of Pokemon Super Mystery Dungeon, it's approaching the RPG concept from a slightly different angle. With all the depth of Pokemon in a open-world turn based RPG setting, is Pokemon Super Mystery Dungeon a must have for fans or a bland attempt to capitalize on the franchises popularity?
Pokemon Super Mystery Dungeon follows in the footsteps of previous Mystery Dungeon titles. You're a human who, for whatever reason, is turned into a Pokemon in a mysterious new place. There you meet a guide who shows you the ropes, while the world around you is slowly revealed and expanded upon. Sure it can be dry and a tad tedious to read at times,  but it's overall a satisfying journey that will keep fans and newcomers alike interested.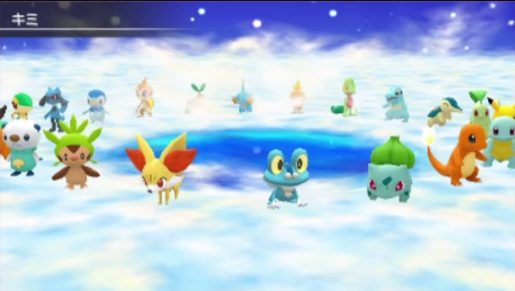 With that being said, one of the stories biggest problems is that you simply can't skip it. So if you really don't care about the reasoning for the adventure and just want to experience the gameplay, you're going to have to spend a bit cycling through dialog and making choices until you get the next gameplay segment.
As mentioned above, Pokemon Super Mystery Dungeon starts with you getting turned into a Pokemon. The Pokemon is initially determined by answering a series of questions relating to your personality. In my case I got Oshawott, but if you don't care for your personality assigned Pokemon you can select any starter from a previous Pokemon title or a fan favorite like Pikachu or Riolu.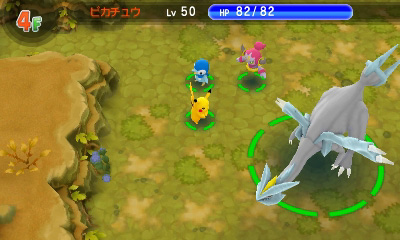 Once you select your Pokemon and your partner, you'll begin your journey through the world of Pokemon Super Mystery Dungeon. From here you met a Nuzleaf, who basically explains all the mechanics to you. These include attacking, basic tips, exploring the world and things of this nature. The tutorial, while helpful, is also a bit heavy on exposition too. Anyone familiar with Pokemon should have a good idea of what to do, with many of the concepts being fairly straightforward and don't require a guide to explain them. That's not to say the guide isn't helpful, just that it might be boring for someone with experience to deal with.
Similar to the main games, the most enjoyable aspect to Pokemon Super Mystery Dungeon is the combat. Like most RPGs each Pokemon has certain strengths and weaknesses, which are based off their affinity, type or attack. The touchscreen has a handy chart that details these things, as do the skills themselves. So if you see a bull's-eye, then that's probably the best course of attack.
The biggest difference between the main games and Pokemon Super Mystery Dungeon is that the combat takes place in the open world with some of the elements transferring over. So if you move or attack, that counts as your turn and will result in hostile Pokemon either moving, retaliating or initiating an attack. The interesting thing is how you plan your moves.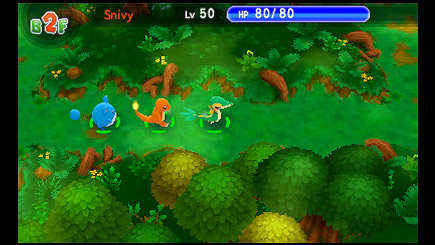 For instance you can do something pointless, like attack the air and have the wild Pokemon move into a better position. You can also use a distance attack, like ember, to attack an enemy several spaces away. There are also items that can aid you in combat. So you can paralyze an enemy to get past them or use a different to rid yourself of status ailments. So there is a fair amount of tactics that come into play with the deciding factor being how you want to handle the situation.
Even though the combat can be a lot of fun, progressing can be sort of boring. Most areas are fairly small, with very little to see or explore. Throughout these areas you'll pick up items that either aid you in combat, nourish your body or aid you in some other way. None of these items are particularly difficult to find, with a lot of the maps being little more than going from point A to B with maybe a fight or two in-between. This gets better as you progress, though getting to that point can be fairly rough, especially if you have no interest in the story.
Verdict
Pokemon Super Mystery Dungeon is a decent game with a fun combat system. Not only does it feature the same mechanics and elements that made Pokemon so popular, it does so with its own unique twist on the concept. Naturally this makes it an enjoyable change of pace for fans and newcomers alike. However, if you don't care about the story or just want to play it for the gameplay, the long story segments and robust tutorial might put you off. Though if you can power through it or simply ignore them, you'll probably find Pokemon Super Mystery Dungeon enjoyable.
[Editor's Note: Pokemon Super Mystery Dungeon was reviewed on 3DS platform. The game was provided to us by the publisher for review purposes.]
Pokemon Super Mystery Dungeon Review

,