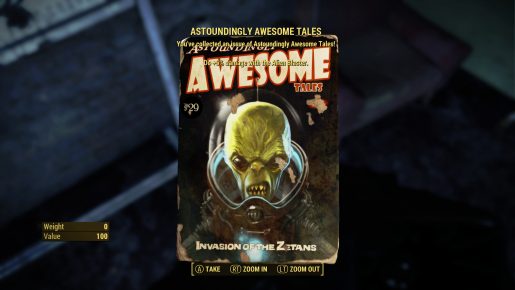 From the plethora of magazines scattered throughout the Commonwealth in Fallout 4, one of the magazines that has a lot of issues is the Astoundingly Awesome Tales.
There a total of 14 magazine issues of Astoundingly Awesome Tales that you can collect in Commonwealth. Each issue has a different perk that can boost your stats in the game. If you want your character to have the best perks, I suggest collecting them all 14.
Here are the locations of all 14 magazine issues of Astoundingly Awesome Tales Magazines:
Astoundingly Awesome Tales
1. Hubris Comics
On the top floor of Hubris Comics building. It's in the "star" restroom on top of the table.
2. Trinity Plaza
Found on the lecturn at the east side of the church.
3. Old North Church
Found inside the Railroad HQ on top of the metal desk in the brick crypt area. It's in the westernmost area of the room.
4. Vault 114 (Park Street Station)
Found inside the living quaters area, on a container in the blocked corridor.
5. Crater of Atom
Found on the top floor of the central metal shack
6. Outpost Zimonja
Located on the workshop. Find it inside the workshop.
7. Sanctuary
Inside your own house.
8. Skylanes Flight 1981
Found on the restroom below the cockpit.
9. Dunwich Borers
Found on the table at the bottom of the pit below terminal 3.
10. Sentinel Site
Found in the metal hut at the very end of the tunnels.
11. Coast Guard Pier
Look for the toilet inside the locked cell by the secured storage room.
12. The Institute
Located on the triangular table just outside of the balcony.
13. Boston Mayoral Shelter
Found on the lower level bedroom.
14. East Boston Preparatory School
Look for the magazine on a desk in the computer room. It's on the top floor.
—
Check out our Fallout 4 Guide page!
Here's our Fallout 4 Review!