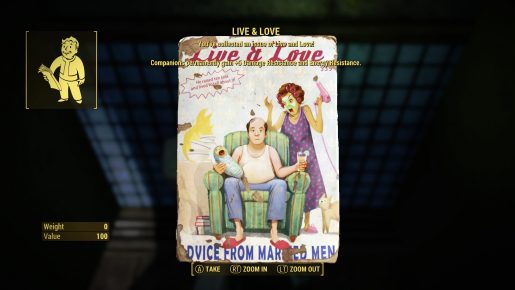 Gamers who wishes to improve the stats of their character in Fallout 4 should consider collecting all of the perk magazines scattered throughout Commonwealth. One of the issues that they can collect is Live & Love.
There are a total of 9 Live & Love magazines that you can collect in Fallout 4. If you are determined in finding them all, here are their locations:
Live and Love Magazine Locations
1. Goodneighbor
Inside Hotel Rexford, on the bar counter just right of the entrance.
2. Goodneighbor
Check the bathroom stall to the right of The Third Rail restroom.
3. Diamond City Schoolhouse
Located on the ground floor of Schoolhouse bedroom. It's on the bedside table.
4. College Square
Get it from the safe behind the counter at the station entrance interior.
5. Bunker Hill
It's on top of the monument.
6. Faneuil Hall
Located in the attic of the Hall. It should be on the small table just after climbing the main staircase.
7. WRVR Broadcast Station
Look for it on the table near the recording station.
8. Fiddler's Green Trailer Estates
It's inside the caravan trailer.
9. Revere Beach Station
On the upper floor of the promenade building. It's on the concrete blocks by the cooking pot.
—
Check out our Fallout 4 Guide page!
Here's our Fallout 4 Review!