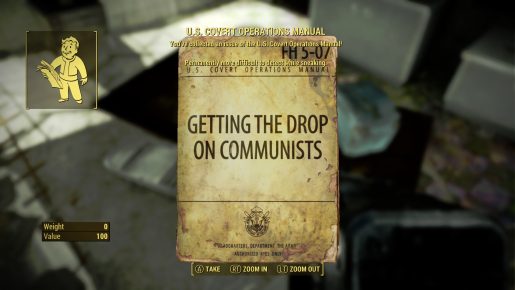 In addition to Grognak The Barbarian, Unstoppables, and Awesomely Astounding Tales magazines, there is also a U.S. Covert Operations Manual that you have to collect in Fallout 4 if you wish to get useful perks for your character.
There are a total of 10 manuals scattered throughout Commonwealth. Just like other magazines that I previously mentioned, getting them will grant your character unique perks that make them more competent in battle.
If you would like to get all 10 Manuals, here are their locations:
U.S. Covert Operations Manual
1. USS Constitution
Found inside the ship, on a corner table inside the Captain's cabin.
2. Fort Hagen
It's in the Command Center. On the side table of the bedroom and kitchen.
3. National Guard Training Yard
Found on the table in the cafeteria.
4. USAF Satellite Station Olivia
Unlock the terminal to gain access the computer room. It's on the desk with the mini nuke.
5. Lexington: Switchboard
Found on the terminal in the executive office.
6. Federal Ration Stockpile
In Red Tourette's Base. Look for it on the main table in front of the sofa.
7. Libertalia
On the red chair on the main shanty ship. Same level as the white metal window wall.
8. Abandoned Shack
Located in the Federal Survival Center. On the light blue metal computer bank near the terminal.
9. Fort Strong
Found on the desk of General Brock of the ground floor.
10. Revere Satellite Array
On top of the satellite support that doesn't have a dish. It's in the shunty hut.
—
Check out our Fallout 4 Guide page!
Here's our Fallout 4 Review!