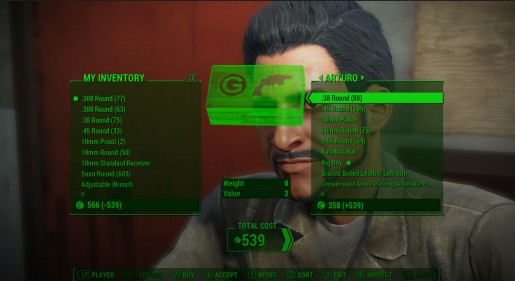 Fans who are familiar with the infinite bottle cap money glitch trick in Fallout 3 and Fallout New Vegas will be pleased to hear that it's back in Fallout 4.
The infinite bottle cap glitch pretty much works the same way in Fallout 4, except there's a slight modification. As always, it requires you to go to a vendor. Any vendor will do as long as they have bottle caps in their inventory.
Infinite Bottle Cap Glitch
1. Find a vendor who sells ammo. Any kind of ammo will work.
2. Pick an ammo that you want to buy
3. Buy every single ammo of that ammo type you desire
4. First, sell one ammo of the stash you just bought
5. Then, sell the rest of the ammo
6. You will see that one ammo is left from the stash.
7. Keep selling that one ammo left until you get all of the bottle caps from the vendor.
This works pretty good at early parts of the game. Especially with Arturo in Diamond City.
Note: To have enough bottle caps to buy everything you need from a vendor, keep selling and make sure that the vendor owes you a lot of bottle caps. Even though the vendor has 0 bottle caps left, you can make the vendor owe you enough bottle caps, like -4000, and buy everything that costs 4000 bottle caps in all one transaction!
—
Check out our Fallout 4 Guide page!
Here's our Fallout 4 Review!