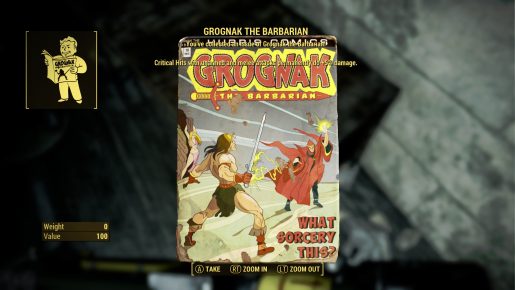 In Fallout 4, there are a plethora of magazines that you can collect and one of them is the famous Grognak The Barbarian magazine, which gives you a boost to your stats once you collect each of them.
There are a total of 10 Grognak The Barbain magazines scattered throughout the Commonwealth. If you want to get them all, here is the list on where to get them:
Grognak The Barbarian Magazine Locations
1. Sanctuary
You'll find the first issue of Grognak The Barbain magazine on the kitchen table of your old house in Sanctuary.
2. Vault 81
Complete the Miscellaneous Quest: Short Stories in the Classroom from teacher Kathy
3. Converga Assembly Plant
Look for the magazine on the top floor, in the Raider metal hut accessed via the catwalk bridge, near the Streamer Trunk
4. Museum of Witchcraft
Found in the upper floor of the Museum, just before facing the Deathclaw. It's located on top of the table.
5. Hyde Park
It's located in the raider camp on the roof of the buildings.
6. Boston Common
Check out the barstand, near the skeleton, close to the Park Street Station entrance.
7. Malden Middle School (Vault 75)
Found on the bed, inside the Overseer's office on the top floor.
8. Wicked Shipping Fleet Lockup
Found on the east end of the main entrance in the small office, on the desk with the key.
9. Mass Pike Interchange
Look for the Power Armor station and locate the magazine on the toilet inside the Gunner Camp.
10. Bus and Apartment Wreckage
Located on the bed of the comic book fan's apartment, with the bus crashed into it. It's near the Andrew Street station.
—
Check out our Fallout 4 Guide page!
Here's our Fallout 4 Review!