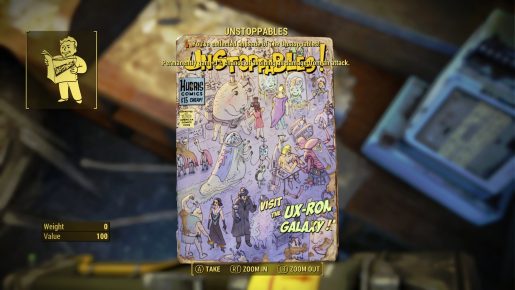 Throughout Commonwealth in Fallout 4, there a total of five Unstoppables magazines that you can collect.
Similar to Grognak The Barbarian and other magazines that are scattered throughout the Commonwealth – Fallout 4, getting each issue of the Unstoppables magazine will give you an additional boost your stats. Fortunately, there are only five Unstoppables magazine in the Commonwealth, so it's easy to track and collect them all.
Here are the five locations of the Unstoppables magazine:
Unstoppables Magazine
1. Hubris Comics
Located on the counter of the shop just near the entrance. It's in front of the Grognak's Axe display case.
2. Westing Estate
Look for this magazine on the shack closest to the river, with the lantern on the wooden floor near the mattresses.
3. Shaw High School
Located on the lower level in the Library.
4. D.B. Technical High School
It's in the basement level in the swimming pool, northwest corner wall. It's above the Fat Man and near the Steamer trunk.
5. Suffolk County Charter School
Found in the upper floor in the library room.
—
Check out our Fallout 4 Guide page!
Here's our Fallout 4 Review!