Remasters can be a good and bad thing. On one hand they're resources that could be better used elsewhere, but on the other it's great to experience great games for a second time. In the case of Darksiders II: Deathinitive Edition, it's a welcome opportunity to possibly gain support and continue the series. With gameplay reminiscent of God of War, a lush open world to explore and plenty of things to do, there is a lot to see in Darksiders II: Deathinitive Edition, but is it worth your time or did the series die for a reason?
Darksiders II: Deathinitive Edition runs parallel to the first game, starting towards the end and continues beyond where Darksiders ends. The story itself follows the second horseman, Death, on his journey to clear War of the supposed crimes he committed in the first game and make up for past mistakes. While the story isn't the best around, it's certainly an interesting trip that has something for fans and newcomers alike. Plus the sharp turns and interesting twists should keep you excited for the duration of the game.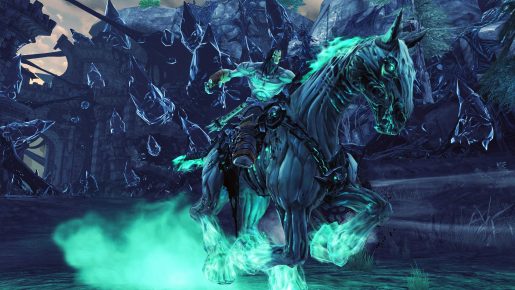 In addition to having a decent story, Darksiders II: Deathinitive Edition has fantastic and engaging gameplay. Taking a page from God of War, Darksiders II: Deathinitive Edition is a hack and slash game with some RPG elements. While you can clear most encounters by using the same attacks, there is a wide array of weapons at your disposal, along with unique skills, abilities, perks and mechanics you can use to spice up the combat.
The real highlight to Darksiders II: Deathinitive Edition is the large world for you to explore. Even though you can go through the story in a linear fashion, there are plenty of places to explore, secrets to discover and bosses to defeat. This makes it exciting to check every nook and cranny, though most things aren't hidden particularly well or require you to return after you've obtained the required skill or ability to get to that location.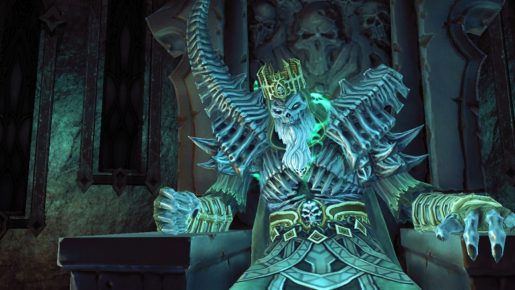 One of the biggest changes between Darksiders and Darksiders II: Deathinitive Edition is the introduction of a loot system. As you progress, your foes will drop armor, weapons and other items, which will continue to increase in stats or have unique perks, making the overall experience more exciting. Plus you can send your friends gear you no longer have any use for, giving them a head start or making up for bad luck.
The only real downside to Darksiders II: Deathinitive Edition is that it can, at times, feels too easy. Even on the highest difficulty setting, you can easily dominate most enemies and their moves are generally so telegraphed that you should have ample time to avoid their attacks. Sure some enemies require a different approach to defeat and others might require more dodging, but overall you shouldn't have too many problems rushing forward through all opposition.
Besides lacking a challenge, there is also too much emphasis put on puzzles or puzzle-like activities. That's not to say scaling a wall or moving an object from point A to B is bad, especially since it's a nice change of pace, but they're generally slow and a tad boring for a game that shines best when there is frantic action or during a story segment.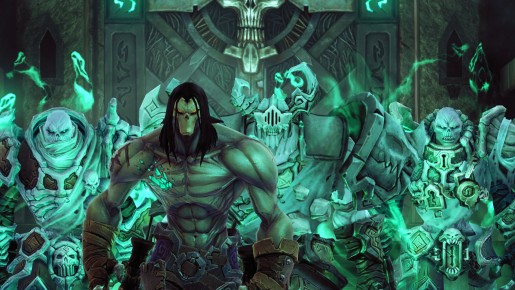 For those curious about the graphics, despite Darksiders II: Deathinitive Edition being an older last-generation title, it actually looks pretty good on current generation consoles. Not only is the world as crisp, vibrant and expansive as it was on the original, it's very clear too. Those worried about graphics or think it might be less impressive because it's an older game, will be delighted to know it came out pretty well.
Not only did it come out pretty well, it also includes more content than the original. While almost nothing new was added, Darksiders II: Deathinitive Edition, it does include all the previously released DLC. This means you can play the challenge mode and additional story stages, in addition to obtaining the DLC weapons too. However, unlike before, these things have been integrated into the game, meaning you have to obtain them though drops or progress, not just getting them at the start. This might be disappointing to some, but at least they're included and don't affect balance.
Overall, Darksiders II: Deathinitive Edition is a remaster that fans and newcomers alike will be happy with. Not only does it look good and play fine, it's an engaging and fairly lengthy experience for a fair price. Toss in the fact it includes all the DLC, a few changes and you have a recipe for a success. However, if you're looking for a deeper experience like Bayonetta or prefer combat to puzzles, you might want to consider another title.
[Editor's Note: Darksiders II: Deathinitive Edition was reviewed on PS4 platform. The game was provided to us by the publisher for review purposes.]
Darksiders II: Deathinitive Edition Review

,