The great thing about Nintendo is that they're not afraid to think outside of the box. Popular franchises like The Legend of Zelda or Mario are constantly being revised, adapted and reimagined leading to some interesting adventures. Among Nintendo's greatest strengths is their ability to make an idea more than just a gimmick. That's what made Kirby's Epic Yarn so good. It wasn't just Kirby with a different art style, but a well thought out adventure that made clever use of the basic yarn concept. Years later Nintendo decided to revisit the yarn idea, but this time with Yoshi. With big shoes to fill, another popular character and plenty to play around with, expectations are high for Yoshi's Wooly World, but can it live up to the hype or is it just another Yoshi game with a neat gimmick?
Yoshi's Wooly World, like most Nintendo games, tells a fairly straightforward and simple story. Kamek has come to Craft Island and turned all but two of the yoshis into yarn. The remaining yoshis then decide to follow Kamek and rescue their friends across a number of stages and world. It's enough to frame the game, but if you're looking for a memorable adventure, prepare to be disappointed.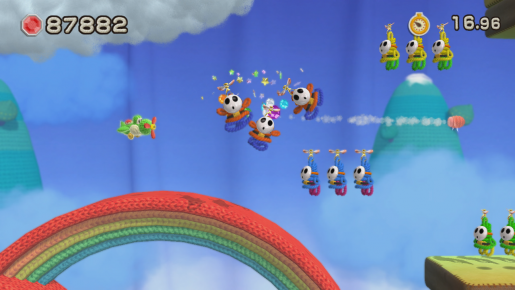 While the story isn't anything special, the visuals more than make up for it. Arguably the best thing about Yoshi's Wooly World is that it takes the same approach Nintendo took with Kirby's Epic Yarn. Everything that makes a Yoshi game a Yoshi game is present, but has been adapted to the yarn concept. Eggs have been replaced with balls of yarn, you can collect bundles of yarn, you can construct platforms and things by throwing a ball of yarn at it, you can eat loose string to reveal secrets, throwing yarn at a piranha plant will tie it up allowing you to kill it and other things like this. Not only does it make the visuals feel more engaging, it makes the world feel more thought out than simply making a Yoshi game where he happens to look like he was crocheted.
Beyond the visuals is a solid gameplay experience too. Like previous games, Yoshi's Wooly World is largely about jumping on platforms, throwing yarn balls at objects, eating enemies and searching for secrets. Outside of visuals and some of the more elaborate designs, Yoshi's Wooly World doesn't offer anything terribly different, but if you're a fan of Yoshi titles, then you'll probably have a blast exploring Craft Island.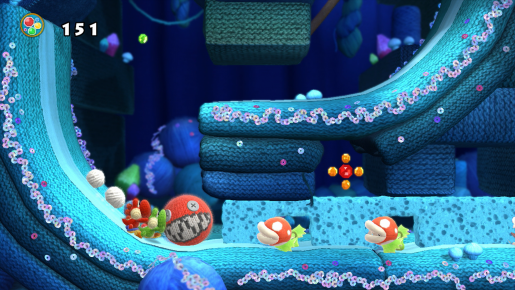 If there is one problem with Yoshi's Wooly World, it's that it offers very little in terms of challenges. Anyone with a fair bit of Mario experience and decent observation skills should be able to locate the vast majority of collectibles hidden throughout the world. If that's not enough, you can purchase perks that further decrease the difficulty. Even minor things like not dying from falling in a hole or only getting large yarn balls makes it so almost anyone can complete any challenge without having to improve. That's not exactly a bad thing, but it's a shame that there isn't more challenges that you need to overcome.
With that being said, Yoshi's Wooly World does reward those who take to time to find collectibles, which is a nice change of pace. Every level has twenty stamps to discover and multiple things of yarn to find. Upon collecting all the yarn on a single level you'll be able to recreate one of the yoshis Kamek deconstructed. Not only does this give you a narrative reason to collect things, but also every yoshi you bring back is a character that you can play as.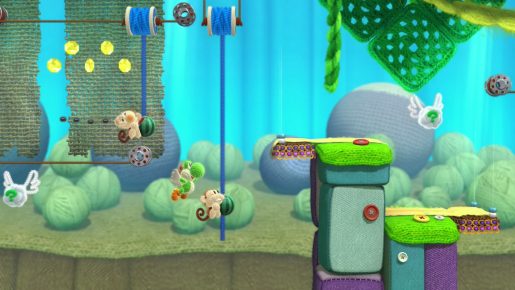 Speaking of alternate designs, Yoshi's Wooly World also supports a wide array of amiibos too. These range from popular characters, such as Mario and Sonic to weirder characters like Duck Hunt or Captain Falcon. In addition to unlocking costumes, any Yoshi amiibo will allow you to play as two yoshi's on a single level. The interesting thing is that while this mode sounds kind of stupid, it offers a nice change of pace. This will allow you to use your partner as a yarn ball and makes some of the jumps trickier, since you have to account for two characters instead of one. Sure it adds noting, though sometimes a change of pace is all you need.
Yoshi's Wooly World is exactly what you expect it to be. A Yoshi game whimsically reimagined in a world made of yarn. Sure it has a weak story and it could offer more challenges, but it's still a lot of fun to play and even more fun to look at. Plus unlocking all the different designs and silly little stamps will keep you busy long enough to get a fair bit of enjoyment from it.
[Editor's Note: Yoshi's Wooly World was reviewed on WII U platform. The game was provided to us by the publisher for review purposes.]
Yoshi's Wooly World Review

,