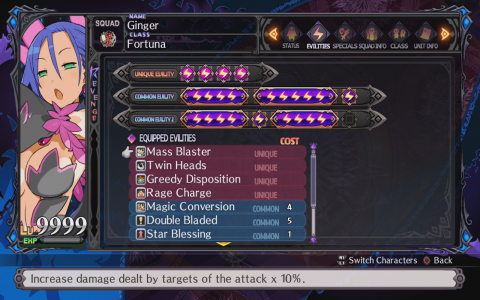 One of the quickest and easiest way to maximize your potential in Disgaea 5 is to unlock evilities and equip them. The general rule being, the more it costs, the better or more applicable the skill. Needless to say, the more four, five and six cost items you apply, the better your build. However, you have to do certain things and complete specific tasks in order to unlock all your evility slots. To help you accomplish this, this is how you unlock them all.
Unique
Unlocked by default
Pass the "Equip Unique Evility" bill (unlocks after beating the game)
Land the finishing blow to Prinny Overlord to on the Overture of Downfall stage
Land the finishing blow to Dark on the Evil God of Tyranny stage
Common
Level up (1 – 12)
Complete Chara World Reward (13 – 17)
Defeat Miss Evil the secret Super Overlord difficulty Chara World boss (18 – 20)
Please note, landing the finishing blow with a magichange weapon will not unlock the evility for the monster. The same goes for defeating the Prinny Overlord by throwing a Prinny at him (you can instantly win the stage like this). For the Chara World evilities, you need to accept the slot multiple times to get them all and defeat Miss Evil several times to unlock them all. With that being said, once you've fought Miss Evil, you can pass a bill and automatically fight her again. Passing this bill will vastly decrease the time required to farm all the slots.