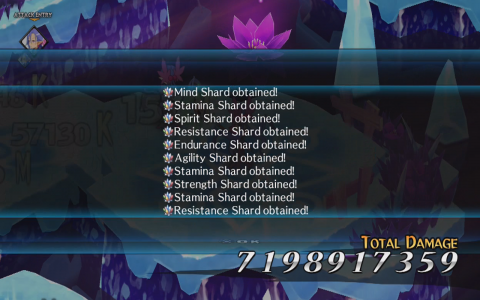 In Disgaea 5 you can permanently boost your stats through shards and extract, which come from defeating enemies. The more common one, shards, comes from simply defeating an enemy while they're in the revenge state, where as extract is obtained by interrogating prisoners and selecting extract. As great as these items are, the truly awesome thing is that, when used a specific way, you can boost the power of five characters instead of one, making them invaluable for building up a team of powerhouses. The only downside is that they're not easy to obtain under normal circumstances and fairly worthless in short supply. Like I got roughly 100,000 for each attribute in shards and 50,000~ in each via extract after clearing around 100 floors in Item World.
While a 150,000~ boost is better than nothing, there is actually a short and simple method to maximize gain and minimize time.
Set up
Level a Sage with all her attribute points going to INT and the following subclasses leveled Nether Noble, Felynn, Rabbit and Twin Dragon subclasses. It also helps a lot to obtain the ! Megaphone item for Hostage Negotiator or unlock that unique innocent. The same goes for giving her Izuna's overload. For an in-depth explanation of these things, please check out our Sage guide.
Obtain a second Sage thats at least level 150.
A maid or someone with the Maid subclass level enough to unlock the evility Licensed Caregiver.
Optional: Additional characters that boost stats, can magichange or ultimately allow you to complete the tactic quicker/more effective or tackle a higher difficulty.
Method
For this method you want to unlock the stage Double Fake, which will be available to you after completing the story and passing the explore another Netherworld or whatever bill. On this stage you need to fight 100 Asagi's, which sounds difficult, but with this tactic it is fairly easy.
Start by pulling out your low level Sage and have her cast Land Decimator. This attack will hit every enemy and will instantly put them all in the revenge state. Since her goal is to get them in this state, you don't want to use a Sage that is capable of killing or even damaging the other Asagi's. Next, pull out your main damage dealing Sage and have her cast Land Decimator.
For this method you want to unlock her unique evility slots (at least two) and use the Twin Dragon's unique evility Twin Heads. What this does is, if you attack without moving, then you'll attack twice. Pulling your character out of the base panel is not considered a move, so if you initiate the attack from there, you'll do it twice. This goes great with the Felynn's unique Final Blow evility, which lets you do another attack if one of your targets have below 10% health. You can then obtain a fourth attack by having another Sage cast Multi-Attacker, which can help a lot. The reason you want to keep attacking is due to Land Decimator having up to 50% accuracy, which means it's extremely unlikely that you'll defeat all 100 of the Asagi clones in a single strike, but quite likely after eight, though odds are you'll be left with the boss and have to defeat her with a powerful magic attack or other characters.
Idea of the Obtain rate
To give you an idea of the type of returns you'll get, I tested the stage under various settings and compiled them in the list below. While the list is not completely accurate, since the Asagi's come in various tiers and sometimes you'll get more high powered than low and vice versa, I merely listed a number that generally covered what the average shard for that difficulty should be.
Normal
0 Stars – 50
5 Stars – 65
10 Stars – 85
15 Stars – 100
20 Stars – 120
Carnage Dimension
0 Stars – 800
5 Stars – 2,600
10 Stars – 4,300
15 Stars – 5,400
20 Stars – 7,500
Even though these numbers might seem low, you have to remember that you can easily get 100+ shards from doing this stage once, so even 50 at 0 stars can easily become 5,000, which isn't much in terms of post game, but decent in terms of early post game. I also didn't list extraction values, since they're more of a bonus than something you can bank on.
What to do with the loot
After the stage you should get a fair amount of shards and if you're using something with Hostage Negotiator you should get 30+ prisoners (around 0 – 5 without). Once you're done or need to make space, interrogate the prisoners by using threaten. For whatever reason it seems to work well against Asagi and will help you subdue them. After you've done your thing, go to extract and push square. This should condense all the prisoners into a single item, which you can use to power up your troops. As for the shards, simply go to the assembly and pass the condense shard bill. This will turn all the shards into one super powered version of each type of shard.
To maximize the potential of these items you're going to start a random match (I just used the Asagi stage) and pull out up to five characters you want to enhance and then have your character with Licensed Caregiver use the shard or extract item. This will allow you use the item on one character and have the item affect that character and four characters next to them (standard cross pattern). By doing this you'll give five characters the enhancement instead of just giving a character it, saving you time in the long run or allowing you to build multiple powerful characters. With that being said, make sure to pay attention to what these items say. These items have a cap placed on this, so you can never exceed that amount using this method. It seems to be in the 10 – 20 million range, so it will decrease some of your grinding, but not all of it.
Video Guide
For those of you who want to see this all in action or are confused by something said here, please check out the video below. It includes some things not mentioned in this topic, but explained in the Sage post, so make sure to check that post out if you haven't already or just want to maximize your potential.