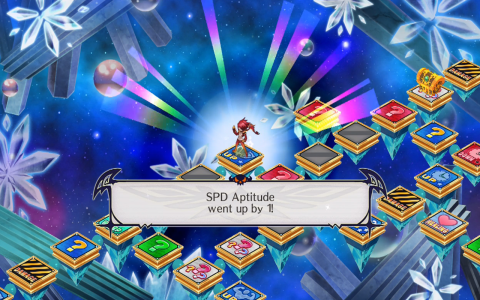 Chara World is arguably the most useful mode in all of Disgaea 5. While it won't give you broken stats per se, it offers you a lot of the tools needed to excel in every other mode. Here you can improve secondary stats like movement, jump, counter, critical hit rate and more, in addition to obtaining 300% aptitude, unique skills/evilities, weapon proficiency and evility slots. If that's not enough, you can also create scrolls of your best or most useful evilities/attacks and use that to make your ideal team. Since this is such an important mode, here are some tips to make the most of it.
Practical is always better than a theoretically superior choice
When you complete a Chara World run you'll gain one of the aforementioned perks as a reward. Even though a higher critical rate or the ability to move further sound great, you're better off picking more useful perks like evility slots and aptitude. Part of this is due to how evilities work, since you can always equip a weapon proficiency boosting item to save yourself however many runs, render aptitude evilities moot (once you hit 300% you no longer gain points) and swapping out gear or adding a movement bonus to gear is a much more universal solution than boosting every characters perks individually,
Think two steps ahead
Arguably one of the biggest mistakes you can make in Chara World is focusing on a single aptitude. As nice as getting the most important stat to 300% is, if you plan on maxing all the stats, you're ultimately wasting time. As I've already mentioned, once you gain 300% you'll no longer gain anymore points. This means prematurely maxing anything will result in aptitude being wasted. So if you want to max them all, I strongly suggest trying to even them out and prevent any points from being wasted.
Focus on the Super Overlord (level 7,999) One
Even though the Super Overlord version is the hardest and longest version of Chara World, it also has an optional boss called Miss Evil. She appears at the start of the mission and offers two bonuses if you manage to defeat her. The first is an additional evility slot (up to like four) and the second is a special item called the Dowsing Rod. This will automatically trigger the hot springs event, which gives you 2% in all your aptitudes. After that, simply defeat your dark copy for an additional 1% in each and then head to the goal.
Do not spend too much time on a single run
For whatever reason you can only gain 5%, not including the final Chara World bonus, aptitude in a single run. This means spending too much time in Chara World will quickly result in time and stats going to waste. Since this mode can be incredibly boring, especially when you have little to gain from it, you want to quickly focus on your objective and ignore everything else.
Pay Attention to the Icons, your build and squad
In the event you want to maximize the effectiveness of Chara World, remember that there is a Chara World squad and certain evilties make this mode easier. In addition to that, more powerful/helpful spaces are more detailed than less helpful ones. So if you three blue squares, one with the perk outlined, another with it colored in and the last one with it colored in with a darker color, the third one will give you a better reward than the first one.