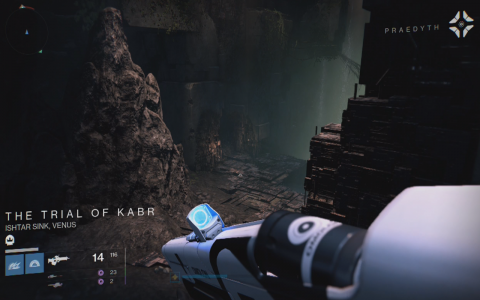 For a while there have been a lot of popular theories in Destiny. One was that the pointless broken teleporter in the Vault of Glass would give a sixth chest, where as another was that the "sixth" chest was located down the seemingly pointless hidden route at the start of the Vault of Glass. Neither of these theories lead to anything, but when the Black Spindle was found, people started looking at the missions more closely. One of the most speculated missions was Paradox, which people believed might lead to one of the known, but not currently obtainable exotics. Eventually a secret ending was found where you could obtain a special ghost, but triggering the ending required a fair bit of glitching and speculation that obtaining the item might screw up your quest progression. While that remains to be seen, today's Daily Heroic is Paradox and contains three special ghosts that when obtained in a single run without dying, opens the mysterious gate at the end of the Vault of Glass, giving players the ghost.
Details
As mentioned above, this is a one and done sort of thing. The ghosts can be obtained however many times you want, but wiping will reset your progress. It isn't enough to get one or two in a run, nor is it enough to get one, wipe and then finish the mission. You absolutely must make it from start to finish without having everyone die.
This is also only available in the daily heroic version. Any other version will not contain the ghost and looking will be a waste of time.
Ghost #1
The first ghost is located in the hidden path at the start of the Vault of Glass. If you've never gone there before, basically you go till you get to the doorway that leads to the hallway before the platforms and instead of going there, you walk over the edge and jump into a small room.
Once inside, jump to the first real platform and then look to your right. You should see a ghost/memory there.
Now getting the ghost is the easy part. The tricky part is actually finding your way out. To do that you need to basically go forward, looking at lower levels once you've seemingly hit a dead end.
Ghost #2
The second ghost is located in the spirit bloom chest. This is located to the left of where you need to go.
Continue until you see the pillar pictured below, jump on it and then the next platform, jump into the small room and then look to your left.
Ghost #3
Go to the exit to the jumping puzzle. If you don't know where that is, just try to follow the images below.
Simply go the left path, look to your bottom right, land on the platform and look up. There you should see the final ghost and this will trigger the gate to open and a series of platforms to spawn. Jump across, defeat the enemies and enjoy your prize