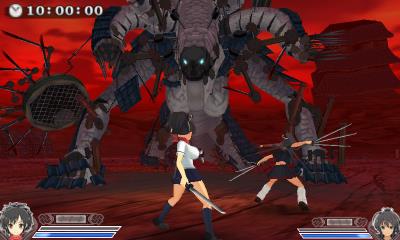 If there is one real flaw with Senran Kagura 2: Deep Crimson, it's that, even though some depth exists, it is still a pretty shallow game. Most stages are fairly small and bland looking environments with a couple of enemies you can smack around. Even when facing a boss much more powerful than you are, there really isn't much to see beyond the same bread and butter combos that got you to that point.
Sadly, the same goes for boss battles too. Usually I found a lot of success in finding a combo that bested the AI and then repeating that combo, ideally juggling them, until the boss was defeated or at least lost some clothing/armor. At times this can be an interesting mechanic, though the lack of engaging gameplay will make it feel like a pointless time sink, than anything else.
Even though the gameplay and story are a little on the bland and repetitive side, there is a fair bit of customization options. These start with alternate colors of existing costumes and the ability to mix and match costumes and eventually leads to more elaborate costumes and accessories.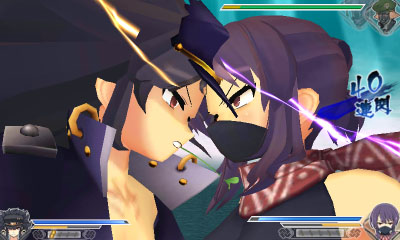 Given the importance of the characters look/style this is a fun and worthwhile system that fans or just those who want to play dress up with busty young women will enjoy. Unfortunately this probably won't be enough for most people, especially since Senran Kagura 2: Deep Crimson is little more than constantly repeating the same combos, but, at the same time, it is good to see them maximize the potential of the games selling point. Especially since missions unlock additional accessories, giving you something to look forward to as you progress in the story.
In a lot of ways Senran Kagura 2: Deep Crimson was made with a select demographic involved, which isn't exactly a bad thing either. Instead of getting a mediocre game with pointless mechanics, poor attempts at depth and flashy features that do nothing, you instead get a straightforward game that's accessible to practically anyone and attempts to capitalize on the sexual aspects of the series. Again, this really isn't a bad thing, though if you're looking for anything more than sex you'll probably leave disappointed.
[Editor's Note: Senran Kagura 2: Deep Crimson was reviewed on 3DS platform. The game was provided to us by the publisher for review purposes.]
Senran Kagura 2: Deep Crimson Review

,