When it comes to mindless fun, there is no game better than Dynasty Warriors. Not only are the games easy to grasp and get into, they're a lot of fun because you can mindlessly dominate your foes. This has lead to a number of games taking the same basic idea and putting their own spin on it. And then we have Senran Kagura 2: Deep Crimson. With a bunch of busty kunoichi, simple gameplay and more, is Senran Kagura 2: Deep Crimson worth your time or is it a title that will appeal to a small handful of people?
Senran Kagura 2: Deep Crimson tells the type of story you would expect from this type of game. A lot of scenes are devoted to character interactions, some of which are a little naughty or edgy, with a dash of conflict, ultimately resulting in the girls putting their differences aside and working together. In many ways it is a familiar story that anime/manga fans will recognize and most likely enjoy.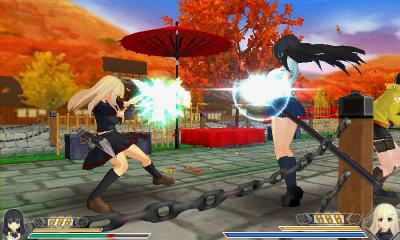 Even though the story is fairly generic, the same goes for the gameplay. Since Senran Kagura 2: Deep Crimson plays like Dynasty Warriors, it is a fairly straightforward title. Every girl has a weapon or playstyle, along with a handful of combos and a couple of special attacks. Even though there is a modest variety of attacks, which expand as you progress through the game, you honestly don't have to learn more than the basics to be successful, even against the hardest of foes.
With that being said, the various girls all have different playstyles, resulting in a deeper experience than you might have expected. Like Katsuragi plays totally different from Kagura and has own advantages and disadvantages for you to overcome. At times this can be frustrating, especially if you're no good with awkward fighters like Katsuragi or Yagyu, though the option to deal with a more direct fighter (Katsurai) or area fighter (Yagyu) will help make otherwise difficult sections more manageable.
Senran Kagura 2: Deep Crimson Review

,