When Disgaea originally released it was a simple game with a stupid story and one simple goal, obtain absurd stats though meticulous grinding and well thought out tactics. Over time the grind became more accessible, new mechanics and elements were implemented to offer greater diversity and the series quickly became one of the most thought out RPGs on the market. Now that Disgaea 5 is set to release on the PlayStation 4, is it a step forward for the series or is it finally time for the series to call it quits?
Disgaea 5 tells a familiar "Japanese" story that is reminiscent of popular series like Mobile Fighter G Gundam. The basic idea is that Killia, the main character, was wronged and now seeks vengeance on the person who wronged him. Along the way he inadvertently gains a number of companions who were also wronged by Void Dark and join him on his quest. While the basic set up is fine, the story suffers from not only being predictable, but also gets lost in too many storylines that don't pay off and at times feels like a checklist.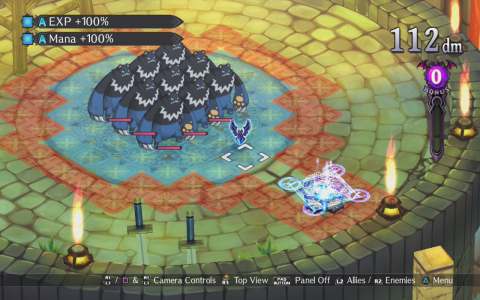 Like it's great to develop side characters and give their stories closure, but this is very much Killia's story and practically everything else feels and is treated like filler. At times it gets so bad that the story would probably benefit from removing Christo, Seraphina and Red Magnus, if only to focus on the story they're trying to tell. With this being said, Disgaea 5 is still probably the best story in the series, but be aware it has very real problems and, at times, feels like it's trying to be a Disgaea game more than telling a compelling story.
Despite Disgaea 5 being an RPG, the games main attraction is still the gameplay, which is better than ever. Similar to previous entries in the series, Disgaea 5 tries to improve the formula by making things simpler and more straightforward. Now class exclusive abilities and certain skills are linked to subclasses you can level, scrolls that you can find or make and defeating specific bosses. Not only does this allow for more customization with minimal effort, it also allows you to create deeper strategies.
Disgaea 5: Alliance of Vengeance Review

,