When Risen 3: Titan Lords was released last year onto last-gen consoles, many gave the game high hopes that it's an improvement over the second one. Unfortunately, the game was simply a buggy mess due to its glitches, clunky controls, frame-rate issues, and subpar graphics. Moving forward to a year later, Piranha Bytes decided to re-release Risen 3: Titan Lords to current-gen consoles labeling the game, Enhanced Edition, promising improvements over the original release. Is there any improvements at all over its original release? Sadly no, as the problems are still there.
The story of Risen 3: Titan Lords follows a nameless hero who is the son of the pirate leader, Captain Steelbeard. After he met his demise at the beginning of the game, he was brought back to life to search for his soul as it has been trapped in the Underworld. This marks the start of his journey as he venture to different islands in search for his soul and truth. The pacing starts off pretty good but it drags down as at the later parts of the game.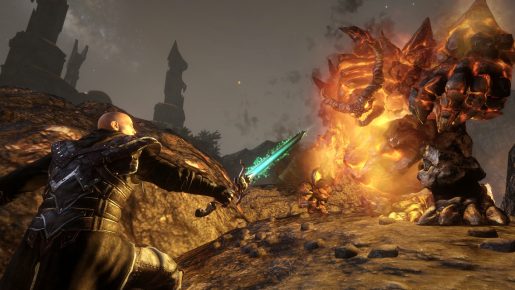 Similar to past Risen titles, Risen 3: Titan Lords plays similarly. The game is an open world where you can take on quests and have an opportunity to explore different islands. When it comes to questing, it's quite decent as it offers some interesting storylines for its sidequests. However, when it comes to combat, that's where it gets bad. The animation when fighting enemies looks bad as it gets all clunky with monotonous movements. While I was playing, I thought of playing an old game on PC and compared to its original release last year, not much has changed – it's the same problem that exists in the Enhanced Edition which is pretty disappointing.
As far as visuals goes, the enhanced edition looks slightly better than the original. The textures has improved a little and the character model looks a lot better but the glitches and pop ins still exist in the game. With the game being an open-world, there are environments that looks good which is a big improvement over the last-gen console versions. You'll see much more detail to its visuals now as it has become more colorful and vivid on the PS4. Animation-wise, that's where the game falls short. For the most part, you will notice glitches when moving around the island, or sometimes, you'll get stuck. Another thing that annoys me is the unstable frame rate, which can be unbearable at times.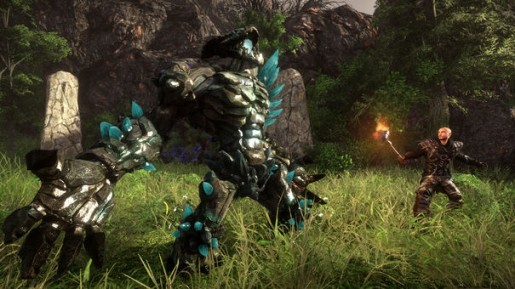 In terms of combat, I find it pretty disappointing as the depth to it is lacking. For those who are hoping for some sort of a deep combat system, don't expect it here as it's pretty basic and seems unnatural. When engaging in a fight, you will only have to press one button. Depending on how fast you press it, the way you attack varies. It pretty much relies on that one button when attacking enemies, which is lame. To make it somewhat different from other RPGs, the nameless hero can use a second weapon that varies from a pistol or throwing knife. Using them adds variety to the combat but they're not enough to make the overall combat system enjoyable. In other words, fighting enemies aren't enjoyable at all as it gets dull over time.
One of the things that I like in Risen 3 is the character customization. As the nameless hero levels up, it uses something called glory for experience. For every level that he earns, stats are increased and you must visit a specific character throughout the game to learn skills. Since you are a pirate that relies on swords, you can learn different sword fighting skills or lock picking traits, though it will cost gold and glory. The trainers allow the nameless hero to be powerful and give players the freedom to customize their character attributes.
Risen 3: Titan Lords – Enhanced Edition is a tough title to recommend to RPG fans due to flaws that can't be easily overlooked. Despite the game getting the enhanced edition treatment, the problems that existed in the original version remain prevalent, though the only thing that have improved are the visuals, which isn't enough to justify a purchase on this game.
[Editor's Note: Risen 3 Titan Lords – Enhanced Edition was reviewed on the PlayStation 4 platform. The game was provided to us by publishers for review purposes.]
Risen 3: Titan Lords - Enhanced Edition Review

,