When Oneechanbara first released, it was a textbook example of a budget title. It was a simple game, with a simple premise and there was little more to it than a scantily clad girl killing zombies en masse. Since then the series has evolved to include deeper mechanics, better visuals, nicer cutscenes and more, but at its core it's still all about some cute girls killing zombies. While this works fine for B-movies, is Onechanbara Z2: Chaos worth your time or it is a more gimmicky Dynasty Warriors?
Onechanbara Z2: Chaos takes place after the events of Oneechanbara ~Kagura~, a title that was never localized, continuing the story of the war between the vampire clan and those with the baneful blood. A new enemy has unleashed hoards of zombies on the world, so the two clans need to work together to put a stop to the zombies and their leader. For the most part there really isn't a lot of depth in the story and things tend to happen in the most predictable/cliché way possible. With that being said, the real issue is pacing. The two groups go from enemies, to dealing with a worldwide invasion to finding out the masterminds plan so quickly that there is no tension or weight to what's going on.
Even though the story is pretty much what you would expect from a game about cute girls killing zombies, the combat system is surprisingly deep. However, the gameplay is sort of flawed. In a lot of ways Onechanbara Z2: Chaos reminds me of Neptunia. There are a lot of mechanics, it seems shockingly complex, a number of tutorials/explanations are thrown at you within quick succession, but come the end of the day, you can conquer practically any challenge by doing the same thing a lot.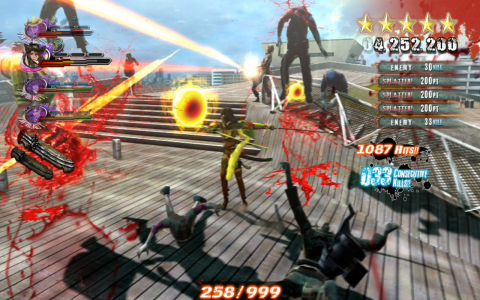 Why learn how to properly time your attacks or master dodging, when you can push square a lot and upgrade your gear or increase your power? Onechanbara Z2: Chaos takes it a step further and adds items that decrease the skill required to perform some of these moves too. Like the cool finish ring made it so easy to perform a cool finish that I was routinely pulling them off by repeatedly pushing square. Perhaps the biggest problem is how each section is graded.
In Onechanbara Z2: Chaos you're graded off a number of things, though only your hit counter and kill chain matter. The issue with this is that there are countless ways to beat the system and with a large enough combo or kill chain, you can still easily receive the highest rank regardless of how much damage you take, items you use or characters die. This also defeats the point of the ranking system. Ultimately the top spot will go to whomever is willing to spend the most time farming points, so there is no incentive to learning how to play.
In addition to story mode, Onechanbara Z2: Chaos also has a mission mode. At first this mode asks you to complete a task with some sort of condition. So you might need to defeat 50 enemies, but you can only deal damage when you use a certain move. These challenges are fun, since they required you to learn some of the mechanics and step away from the Dynasty Warriors kill endless waves of brain dead AI that pretty much sums up the story mode. However, after like five or six missions this mode devolves into various forms of defeat every enemy.
Perhaps the biggest issue is how the missions attempt to offer a challenge. Instead of asking you to perform a specific action you're instead thrown in a tight enclosed area with the enemy. This can be devastating if you let the AI get the best of you, though it's also a joke if you never give the AI a chance. A well-placed super can easily dispatch 50 or more enemies; with crossover attacks and even a strong normal attack can easily kill them faster than they can spawn. This isn't challenging, nor is it fun. It's just a really tedious way to let you fight enemies until your heart is content.
As you finish missions, quests and complete the story, you'll unlock new items for the girls to wear. These range from sexy attire to glasses to even silly cosplay items. Every character and their alternate form can wear a multitude of items, giving you plenty of options to customize your girls. These items can also be adjusted (size, angle, height), put on different body parts and much more. It's a fairly robust customization system that will appeal to anyone looking to play long term or just likes to personalize his or her character.
In the end Onechanbara Z2: Chaos is a simple game that will appeal to anyone looking for a sexier and slightly more complex version of Dynasty Warriors. While there is a lot of depth and plenty to discover, it never feels like any of these things are important (outside of killing the five or six mudmen you fight in the story). In some ways this is a good thing, as you don't need skill to do anything, but on the other hand, you're missing out on a more rewarding experience. For that reason, unless you're looking for a short, but fun Dynasty Warriors-esque experience, Onechanbara Z2: Chaos is not for you.
[Editor's Note: Onechanbara Z2: Chaos was reviewed on PS4 platform. The game was provided to us by the publisher for review purposes.]