One of the most common questions for comic, manga, anime, and cartoon is who would win in a given situation. Be it the age old who's faster, Superman or the Flash or just a fight between your favorite anime/manga character versus say Goku, there are always fans willing to discuss the matter in length. This is where J-Stars Victory VS+ comes into play. With the ability to play as some of your favorite Shonen Jump characters and a story that has them interacting with one another, fans can finally live out some of their dream situations. With popular characters like Kenshiro, Goku, Luffy, Naruto and more playable, four stories to explore, many iconic stages and much more, is J-Stars Victory VS+ something that will delight fans or is it a shameless cash grab trying to capitalize on the demographic?
J-Stars Victory VS+ tells four different versions of the same story. You pick your hero, be it Luffy, Goku, Naruto or Toriko, they have a set team, you explore the world of Jump interacting with various characters, until you hit the end. Part of what makes the story so bland is the fact that, despite each interaction being unique and certain characters are unique to a given characters story, the overall story is the same. You always need to deal with Nube, the drill is required to enter the snowy land for every character and you get the idea. That's not to say the story doesn't have its moments, it just feels like a chore doing the same thing multiple times for new interactions.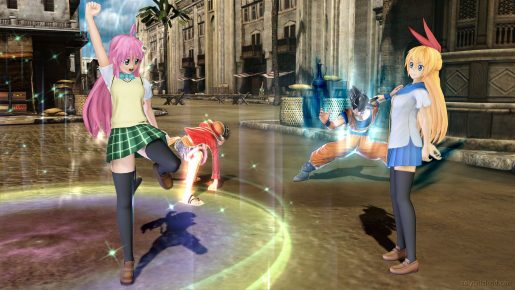 Despite story mode being the worst aspect of J-Stars Victory VS+, the weak combat system certainly doesn't help. Similar to say Dynasty Warriors, most of J-Stars Victory VS+'s combos are performed by simple inputs. There is a light attack, heavy attack, special attack, block, jump, dash and so forth button, which depending on how you alternate these moves will determine your attack. This allows for some flashy combos, something that will appeal to those without the interest in learning complex fighting game mechanics, though there are some deeper aspects.
When push comes to shove, J-Stars Victory VS+ tries to be faithful to the characters, instead of sticking to what would make a good fighting game. This will appeal to fans, especially those who want more faithful adaptations, though this can also be frustrating too. For instance, every character has a victory burst, a move that unleashes their ultimate power, but they're not always helpful. Characters like Seiya gets his gold cloth, which is nice, where as Yusuke will turn into his demon form if he is knocked down and become immune to damage, but die the second your victory burst expires. As nice as these little touches are, they ultimately make certain moves, abilities, power ups and things of this nature undesirable. Especially when other characters don't have such limitations.
With that being said, there is depth beyond knowing how your character is played. You can sidestep while blocking, use the levels to your advantage, change your build or unlock new skills via unlockable cards, summon your support to change the flow of battle or just help you deal some damage and much more. None of these elements are required to be successful at J-Stars Victory VS+, mashing square is more than enough to beat the AI in most modes, but they do offer some level of depth for those interested.
In addition to story mode, J-Stars Victory VS+ also features a mode called Victory Road. Here you need to win various battles and pick your path. Certain stages will have additional challenges, such as perform a taunt, hit the enemy with a jump attack, win without blocking and other things along these lines. What's nice about the challenges is that they force you to play a different way or learn other ways of playing, resulting in a fuller experience. The only downside is having to replay previously completed stages to experience new ones or give previous challenges another attempt. Sure it could be improved, but its not like the fights are too bad anyway.
One of the few new things introduced in J-Stars Victory VS+ is an arcade mode. The matches come in various difficulties and require a little more from players than mindlessly attacking. A few times I even had the AI defeat me, on the lowest difficulty setting no less, for being too aggressive and not paying attention to the other player. This is a welcome change from the bland story or simple Victory Road, though there is always online mode.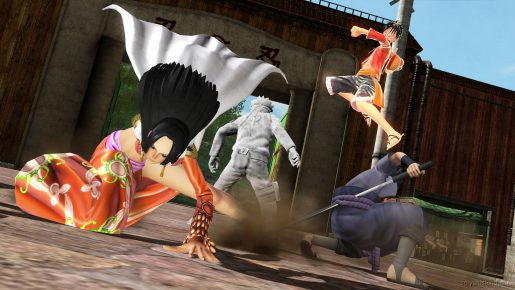 If playing against the AI or your friends isn't enough, J-Stars Victory VS+ lets you play online too. While I had little difficulty finding players and didn't experience a lot of lag, be prepared for a fairly frustrating mode. Like most online modes, the average player I encountered stuck with cheaper characters and stuck to frustrating combos. That's not to say every match will be like this or that you can't simply fight friends, but don't be surprised if you see a lot of the same characters doing the same things to win.
J-Stars Victory VS+ is basically the crossover game you would expect. There is a wide range of characters, most of whom have their signature moves, quirks and or powers, but the basic game is pretty basic and straightforward. The story is more novelty than anything else, something that might not appeal to those without a connection to the characters, but will probably leave fans somewhat satisfied. It's a shame there aren't more modes, certain iconic characters are missing (Kinniku Suguru), other characters have undesirable moves and the combat isn't a little deeper, but if you're a fan of Jump and always wanted to experience a crossover with some of your favorite characters, you'll most likely enjoy J-Stars Victory VS+. For anyone else, you're probably better off saving your money.
[Editor's Note: J-Stars Victory VS+ was reviewed on PS4 platform. The game was provided to us by the publisher for review purposes.]
J-Stars Victory VS+ Review

,