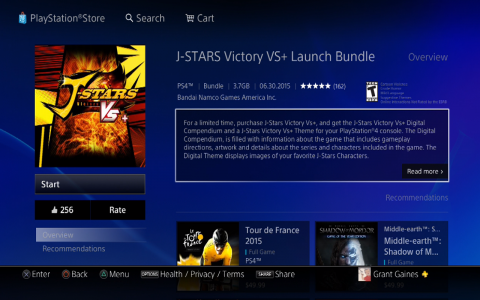 When J-Stars Victory VS+ released on Tuesday, a special bundle was added to the PlayStation Store. In addition to getting the game, fans would also receive a special theme and the J-Stars digital compendium. With these items being offered for a limited amount of time, are they worth considering or do they sound better than they are?
The J-Stars Victory VS+ theme is little more than the title screen with a character in the middle. Sadly the theme is static, though it cycles through various images showcasing the plethora of characters in the game. The theme also includes the opening theme to J-Stars Victory VS+, which can be disabled, though it's certainly one of the more obnoxious themes that will probably only appeal to a small number of fans out there.
What's really disappointing is the digital compendium. Now, as near as I can tell, this is merely a digital version of the physical book given with pre-orders and is based off the original manual and Victory Book (Japanese pre-order bonus). With that being said, the compendium simply doesn't match the quality of either item.
As you can see, the compendium (left) is a lot simpler than the victory book (right) image that Lotte6018 posted. Instead of having a bunch of information on one page with some flashy images, the compendium instead gives each character their own page with little more than a small blurb explaining said character and their series. This makes up a little more than half of the 80 page book, with the remaining pages serving as a manual, a brief interview with Koji Nakajima and copyrights.
Similar to the characters pages being based off the original victory book, the manual is based off the 41 page instruction manual included with the original game. Sadly, only 14 pages were included and many of them are simplified versions of the Japanese instruction manual. In the image above you can see the original Japanese manual (left) and the compendium on the right. There are a few changes between the manual and compendium, though they're still more similar than different.
What really holds the compendium back is, as I previously mentioned, it fails to match either of the original sources. The victory book has a lot of content that was not included in the compendium, as does the manual, leaving us with a neat book that could have been done better.