When Neptunia originally released it was a train wreck. Bad level design, ran poorly, felt dated, didn't do a good job bringing the concept to life and much more. Since then Neptunia MK 2 brought the concept to life and Victory improved the combat system, among other things. Following the release of Victory we started getting remakes for the Vita, which updated the previous titles to have the improvements found in later titles, plus further improvements to the actual formula. This was enough to make Neptunia Re;Birth worth visiting and Neptunia Re;Birth 2 stand out, but will the same hold true for Hyperdimension Neptunia Re;Birth 3: V Generation or is it more port than remake?
Neptunia Re;Birth 3 tells the story of Neptune getting sent to an alternate dimension and follows her quest to get home. For the most part the story is filled with character interactions and showcases some of the differences between the universes, like a new character called Plutia is in charge of Planeptune, Lowee is in a Japanese style, there are new villains in addition to old antagonists returning and things of this nature. For the most part the story is identical to the one found in Victory, largely because events/characters didn't need to be altered, but there is some new content, such as a lead in to Victory II and more.
Most of the changes in Neptunia Re;Birth 3 lie in the combat system. Like previous titles in the series, Neptunia Re;Birth 3 is a turn based RPG where you can move within a confined space and attack any enemy within your area of effect. Attacks come in three basic forms, including rush (multiple hits generating SP), attack (high damage) and break (breaks their guard allowing for a massive increase in damage). From there you can use customize your attacks to include a variety of moves or opt to use a number of special attacks/EXE drive skills to further dominate your enemies. On paper the combat system sounds great, but Neptunia Re;Birth 3 still fails to get it right.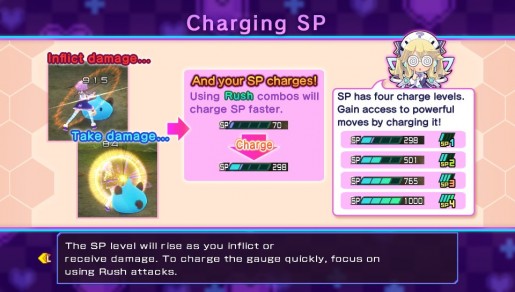 In an attempt to eliminate the EXE drive abuse we saw in the previous Re;Birth titles, Neptunia Re;Birth 3 makes it part of your SP and then makes it difficult to recover your SP. To give you an idea, it costs 5,000 for a 200 point SP charge, which is enough to buy 50 healing grasses (heal 1,000 HP), with each character having a total of 1,000 SP (meaning you might need to use five per character to max them out). In combat, the basic attack, power and break attacks each add three SP, where as a rush adds 18+ per attack, so your max combo would be like 18~ versus 90+, assuming you have the fifth combo slot and excluding the EX finish.
Needless to say, this makes rush attacks far more advantageous than any other attack, resulting in most fights being little more than using rush until you want to use your SP. Especially since there is no incentive to use deeper mechanics, when you can out damage most enemies via SP and quickly regain it with rush attacks. In fact, this method is so effective that I found the game significantly easier the moment I went from trying to use the mechanics to simply blasting foes with this combo.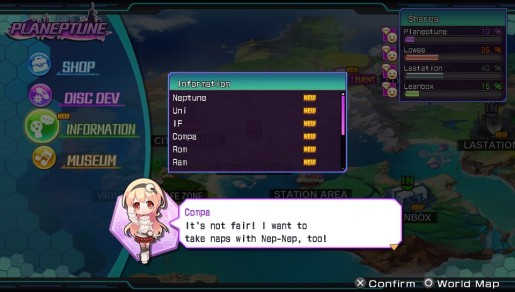 Neptunia Re;Birth 3 also tries to make the plan system more essential to the overall game, but it instead comes off as tedious. Contrary to the other games, where most of the plans were hidden items, given via conversation, situational or enemy drops, most of your plans will come from challenges, Stella's Dungeon, conversations and items on the map. The real problem with this is how the challenges are designed and the type of things you can unlock via the plan system.
Challenges are basically a series of pointless tasks you can perform to unlock additional stats and character specific plans. The issue with them is simple. Most of the challenges require a huge time investment that vastly outweighs the amount of time most people will ever play this game. Like I am on challenge nine of ten for bore chore and I need to take no damage in 500 battles, the third one for killing girl is defeating 1,000 enemies, the first for switch is do it 50 times, etc. Even after beating the game once and halfway through my second cycle I had very little progress on a number of these things and genuinely wonder how many people would actually play this enough to do, like 2,000 symbol attacks for more than one character.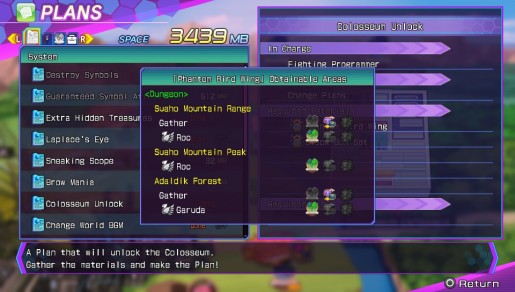 The other problem is the type of plans the challenges unlock. For instance, being in the front lines of 300 battles will give you a plan called HP Up 1 and that will give you 500 more HP, another much unlock an additional attack, menu voices, a solo EXE drive skill, some sort of pervy view mode, a unique leader skill and things of the like. These changes make the plan system feel less like a silly little cheat code mechanic to unlock new weapons, gear, costumes and various advantages and more like it's something you need to actively go after if you want to get the full experience, which can be frustrating for fans.
With that being said, the plan system was finally improved in Neptunia Re;Birth 3. The biggest problem with it has always been figuring out where to get what and the conditions required to complete the task. Like if you want phantom bird wings, then you need to go to Suaho Mountain Range, Peak or Adaldik Forest without enabling a dungeon change. This can be confusing to figure out without a guide, so it's great to see the game outright tell you all this information in a simple way.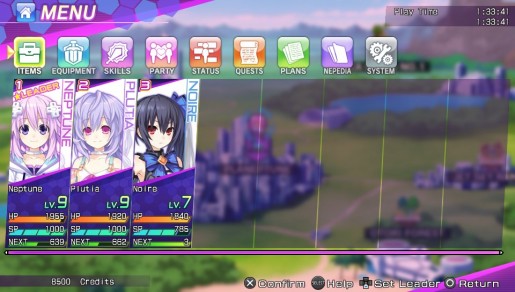 In addition to adding to the plan system, Neptunia Re;Birth 3 also improves on Stella's Dungeon. Unlike the original version, the timer is not based off the Vita's clock, meaning you can't cheat the system, but it also won't randomly reset on you either. Dungeons are also now unlocked via plans obtained at the end of the current area and the rewards are also a little better. The scout system in the original Victory has also been included, giving Stella various perks/advantages, though falling in battle will result in you having to rescue the scout. Scouts can also find special areas, obtain new skills/advantages and it's a lot deeper than the original mode. However, I did obtain a couple of important plans from this mode, so you might need to mess with it if you want to fully experience the game.
Neptunia Re;Birth 3 is more of a port than a remake. The base game is practically the same, with few improvements here and there. Obviously fans will enjoy the new interactions, improvements to the scout system and the upcoming DLC, where as others probably won't care. In many ways it's a shame that Neptunia Re;Birth 3 feels more like a step backwards because of their, arguably failed, attempts to fix the problems of the previous games, but at least it's a solid port that plays fine and offers the usual Neptunia experience on the go.
[Editor's Note: Hyperdimension Neptunia Re;Birth 3: V Generation was reviewed on PS Vita platform. The game was provided to us by the publisher for review purposes.]
Hyperdimension Neptunia Re;Birth 3: V Generation Review

,