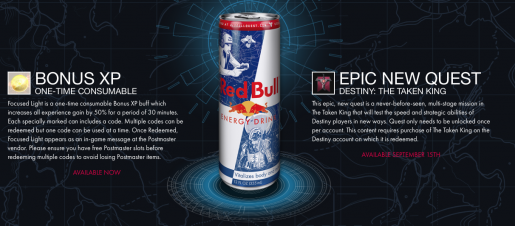 When Bungie revealed people who purchase a specially marked can of Red Bull would get early access to a upcoming mission in Destiny's The Taken King expansion, fans were upset. Some of this had to do with people not liking Red Bull or not being able to go to 7-11, but the end result was not positive. However, now that cans are out in the wild, it seems that the eight digit codes have a shockingly simple pattern that fans have figured out to generate their own codes for free.
It seems that every code in the first batch uses some combination of the numbers 3, 4, 7 and letters X, C and K. So you could type in something like 34774437 or 347KK43C and eventually get the right combination. I personally tried various combinations of just the numbers to verify the claim, resulting in the site telling me every code I entered was already redeemed, until the site eventually prevented me from trying more codes. This has resulted in many users rushing to guess codes, causing the site to face a number of issues, but more importantly, many unopened cans now have redeemed codes.
Already some users have reported getting cans with redeemed codes. No word on how wide spread the abuse has been, especially since the codes have only been redeemable for a couple of days and cans slowly appearing in the wild, but hopefully it gets sorted out before too many problems arise. For now, people suggest contacting Red Bull support and explaining the situation to them.