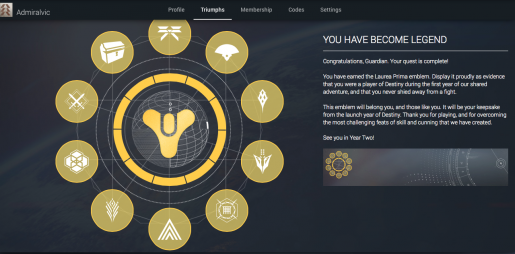 As some of you might already know, today is community day for Bungie, which means they're doing special things for fans. In honor of the event, Bungie has launched a new section called triumphs, which lists a a number of feats to show your progress towards becoming legend for the first year.
Required feats
Apprentice of Light – Reach light level 20
Light of the Garden – Complete the main campaign
Light in the Darkness – Complete The Dark Below campaign
Light of the Reef – Complete the House of Wolves campaign
Bane of Skolas – Complete the level 35 Prison of Elders
Bane of Atheon – Complete Vault of Glass on Hard
Bane of Crota – Complete Crota's End on Hard
Public Servant – Complete 50 Public Events
Crucible Gladiator – Won 100 crucible matches
Chest Hunter – Find all 20 Golden Chest
You have until the release of The Taken King to complete all these tasks and those who do so earn the emblem shown on the picture above. In all and all, not the best event, but it's nice to see there be a reward for those who've conquered the hardest tasks the first year had to offer. Bungie also released a new armory site where you can view the stats and info on various guns. Would have been more helpful months ago, but still better now than never.