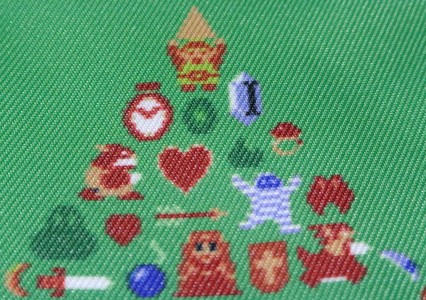 Opening this package was bitter sweet for me. Out of all the rewards the pouch was my favorite and, of course, it was also the last reward shipped from Club Nintendo. Following the disappointment of the messenger bag, cards, the fact the puzzle doesn't come in a box and the rewards going on sale I wasn't expecting much, which is sort of sad. With that being said, my feelings were unfortunately not unfounded either.
Unlike the messenger bag, the pouch comes packaged in a plastic sleeve/pouch and arguably has the best presentation of any of the products. Well, besides the cards for obvious reasons. At least this means you can keep it "sealed" if you wanted to and present it in a way that doesn't damage the product if that is something up your ally.
What makes this pouch a lot of fun is "front" image. There you can see several sprites from The Legend of Zelda and The Legend of Zelda II placed in a formation making the iconic triforce. This extra effort might not seem like much, but it makes a significant difference for fans and helps make the pouch a nice collectible for fans.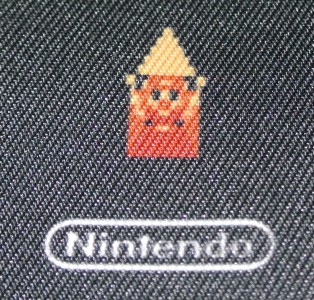 On the other side you have Princess Zelda holding up her piece of the triforce above the Nintendo logo. It isn't as interesting as a design, but it's more than we got on the previous Club Nintendo pouches. However, this design choice is also fairly underwhelming too.
When the pouch was first revealed I had hopes the images was mislabeled and the pouch was actually reversible. So on one side you would have the awesome triforce stuff and when you reversed it there would be the more conservative Zelda design. This would have made more sense, especially since the original pouch was reversible, but that is sadly not the case. Speaking of the original pouch, the Legend of Zelda one is much lower quality.
As you may already know, the new pouch is made of polyester, where as the original was a microfiber. The quality of the images are also much better on the original, as is the ability to reverse it and even the draw string isn't as impressive as the original. Beyond that they're exactly the same size and have as much padding as the other. However, I wouldn't trust the new pouch with my 3DS, since I can't help but feel it's more likely to get damaged in the new pouch versus the old one. Beyond that it's an acceptable product and easily the best of the collection, but still sad to see they couldn't bring it home on the last product.