When it comes to MMOs, there is no such thing as the perfect time to join. At the start people are more forgiving of beginners, have lower gear requirements, come up with creative solutions to complex or difficult tasks and the sense of discovery is still there. Over time groups start looking for specific things, you're expected to know how to play the game, dungeons have defined roles/tasks and there isn't anything that hasn't been seen before, but there is also more content to explore and most things are explained. However, in the case of The Elder Scrolls Online, the servers are filled with new and under leveled/geared individuals, with more than a years worth of content and fixes already implemented. With this going for The Elder Scrolls Online, is it finally time to devote your time to the MMO or are you better off waiting for more content/improvements.
Before you start your adventure in The Elder Scrolls Online, you need to create your character. This is a lengthy and complex process because you can personally practically any aspect of your character and are given a multitude of choices. Like there isn't a couple of races, but ten to choose from, each with their own unique abilities and from there you can control simply things like eye color or hair style to finer details, such as how pointy your ears are or lip size.
Once you create your character you're ready to start your adventure in Tamriel. Like most MMOs, The Elder Scrolls Online has a main story arc that starts in a prison where you learn that Molag Bal has stolen your soul and you start on your quest to reclaim it, but the bulk of your time in Tamriel will be spent expanding on the world around you. Instead of expanding on the main story arc, these quests fill what happened in the world around you, allow you to better the world and or attempt to invite you to the setting.
The nice thing about this is that, despite there being a lot of dialog in The Elder Scrolls Online, you don't need to pay attention to every thing that is said. Another highlight is that The Elder Scrolls Online isn't afraid of throwing in a couple silly quests that offer a welcome change of pace. Like in one you have to reclaim parts of a skeleton and most of the dialog and content is just a long joke. It's small things like this that make Tamriel fun to explore and you'll be doing a lot of this.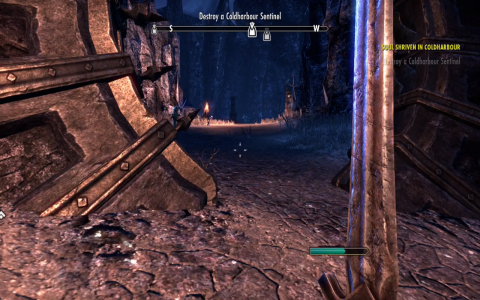 As you should already know, The Elder Scrolls Online release for the PC a while back, so there is a sizable amount of content to explore. The planes are filled with secret dungeons, various foes, special bosses, community events, quests, interactive objectives, treasure and plenty more to discover. Just randomly riding around on my horse I would constantly notice places I've yet to visit, chests I didn't open, events I hadn't completed and quests that I somehow missed.
While there is plenty to do in The Elder Scrolls Online, as a newcomer it might be overwhelming at first. Beyond exploring the land, which even after 15 hours of exploring I don't think I've discovered everything there is to find, there is a vast array of jobs, traits, passive skills and more to help you build your ideal character.
For starters, every class has multiple sub-classes, with various skills that you can enhance to offer additional perks or bonuses. You'll also skills based off your weapon type, be it two-handed, wand, bow, sword and shield or dual wield, that offer you either a skill or a passive that enhances the experience. Like for two-handed weapons you can get a skill that lets you hit multiple targets in a single swing. If that's not enough, every race also has their own unique set of skills, plus you can expand your master of various crafts, be it blacksmith or cook, guild skills and more. Needless to say, this is a lot to take in at once and it will probably be a while before you have a good grasp of what kind of role you want to take in The Elder Scrolls Online.
Even though there is a lot to take in, it can result in a rewarding experience in The Elder Scrolls Online. Because you're given so many options, the ability to hold two distinctly different weapons with its own skill bar, and level so many different things, you can create a truly unique character. Be it a magic user tank, a healing tank or a damage dealer that can heal or hold agro. The choice is ultimately yours and the only limit is your own ability. This was a refreshing change of pace for me, since it made all the complexity feel rewarding and allowed others to substitute/cover for someone else when need be. Sure you need to sacrifice some things, at least in the early levels, to fill these different roles, but it's nice that the option exists and you're not punished for taking it.
Speaking of which, the combat system in The Elder Scrolls Online is simple, but not without its own form of depth. Every time you engage an enemy you have the option to use a skill, magic, normal attack or charged attack. You can further enhance your arsenal by disrupting their attack or blocking to stun the enemy. The game also indicates where the enemy is going to be attacking, so you have ample time to dodge, block or whatever the attack to continue on your quest. Obviously it will take some time to get use to it, but as you upgrade your skills, figure out what works for you, get better gear and master the enemies patterns, you'll see just how much you can do with the combat system.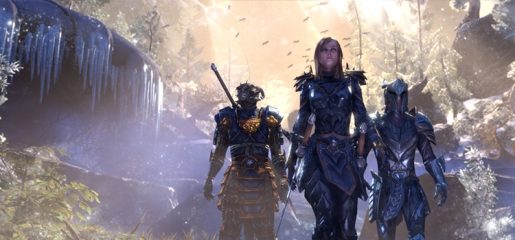 Despite getting the important things right, The Elder Scrolls Online still has a lot of room to improve. Right now one of the biggest problems is the matchmaking system. In its current form you can only look for a random dungeon if you're alone, you can't join the queue if there is a level difference greater than four in your party and even when I tried to find any dungeon under any role, it still took me 18 minutes to get matched. This seems to be a common problem for players, as I had to ask people in towns if they were interested, since I can't invite someone in a group into a new group and many of them expressed similar concerns/issues.
Thankfully the remaining issues are relatively minor, but are still problematic. One annoying design choice is making shops go buy, buy back, sell, repair, instead of the typical buy, sell, buy back, repair. Many times I've accidentally bought gear I sold, because I was trying to sell new gear that I hadn't had a chance to sell yet. It's also surprisingly common for stealable items to be placed near an NPC, where, if you're not careful, you'll accidentally steal instead of talking to the NPC like you wanted to. I've had this happen a couple of times and I've also accidentally attacked an ally while fighting an enemy, resulting in that increasing my infamy.
Perhaps my least favorite element is how the waypoint works. Instead of directing you to points that will eventually take you there, the waypoint simply points in the direction of the objective. So even if going straight will eventually take you to a mountain and one of the paths will not allow you to go around it or is wrong in some way, the waypoint will always direct you there. I mean, it works in the sense that you get a general idea of where you're going and the map will show you the rest of the way, but it could certainly be improved considering how important that stuff is to a game like The Elder Scrolls Online.
In terms of a console MMORPG, The Elder Scrolls Online is pretty good. Games like Final Fantasy XIV might be better, but the one time fixed cost more than makes up for it. Between the multiple classes, races, alliances, plethora of places to explore, there is more than enough content to make The Elder Scrolls Online a worthwhile investment. Sure there are still some kinks, but once you make some friends, join a guild or yell to whomever is listening in town, it won't even matter.
[Editor's Note: Because of the nature of The Elder Scrolls Online, we will reevaluate the game sometime next month to see if things have improved. The Elder Scrolls Online was reviewed on PS4 platform. The game was provided to us by the publisher for review purposes.]
The Elder Scrolls Online (PS4) Review

,