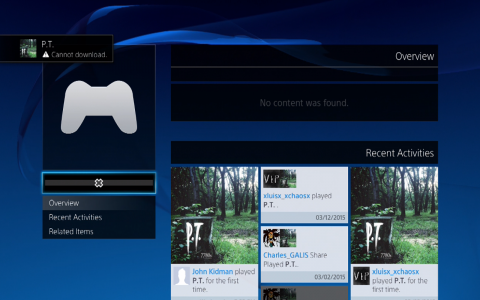 Typically when something gets delisted on the PlayStation Network, those who "purchased" it will be able to redownload it from their download list. This is how people were able to play The Simpsons, Spelunker Black, Skullgirls and a number of other titles long after they were removed from the PlayStation Store. When P.T. was originally removed, users had no issue just going to their download list and downloading the game again. However, that no longer appears to be the case.
Currently if you try to download P.T. you'll receive the message "cannot download. To check the problem, select [notifications] > [downloads]." Upon checking your downloads you'll see a message saying "cannot download" and clicking it will give you error code CE-32937-4. According to Sony this is a general error that means it "failed to download data," offering no real insight into the matter. To make matters more confusing, a couple of people from Europe have claimed they can still download P.T. from the PlayStation Store and this issue might be limited to North America.
This is entirely possible, given the vanilla version of Mortal Kombat X was randomly removed, resulting in users having problems the past couple of days, before it was relisted and season pass holders, plus Wolfenstein: The Old Blood purchasers faced similar problems. So this might be an error on someones part that may or may not be corrected in the future. In either case, we strongly suggest not deleting the game if you want to play it and to be careful syncing your licenses. There is a small chance that restoring a license could result in the content being locked.