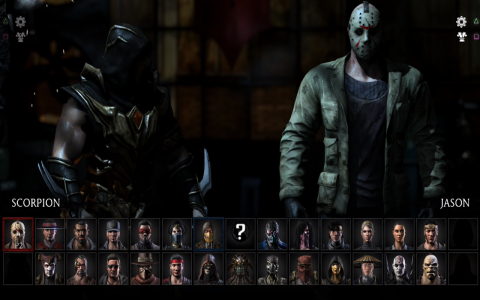 The line between exciting crossover and shameless cashgrab is pretty thin. Typically a good crossover needs to make sense, hold true to the characters involved and feel like there is more to it than name recognition. While Jason Voorhees certainly makes sense in the world of Mortal Kombat X, it's hard to ignore the fact he is only being included because fans have been requesting him and other iconic '80s villains for years. Despite this being good news for fans, since they can finally play as these characters, is Jason a worthwhile character and loving tribute or is he just there to make fans happy and cash in on his legacy?
The great thing about Jason is that there is a balance between remaining true to the character and making a viable fighting game character. Jason is slow, mostly a grappler, isn't that flashy and is very straightforward. So straightforward that he might just be the easiest character to pick up and win. He has a lot of easy to do combos, which can be chained with another combo or grab with relative ease. Beyond being simple to use, his three variations are also pretty diverse and interesting.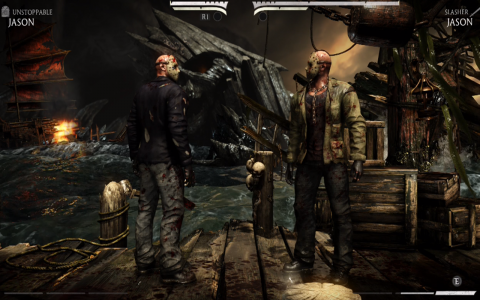 The first variation is called unstoppable and is built around buffs. The first buff increases your damage, where as the second buff gives some slight health regeneration. Neither buff is particularly powerful, like health regeneration is something like .25% per second, but they can be devastating if used correctly. The other unique skill is resurrection, where, upon defeat, Jason will revive trading special bar for life. This can only be done once and the amount of life you receive is based off how filled your bar is. The image above shows you the maximum amount of health you can receive (Player 1 / left side), which isn't much, but enough to turn the tides. The great thing about this skill is that it discourages meter use, making a sudden X-Ray both unexpected and extremely risky.
The next variation is slasher and all about combos and range. This is probably the easiest to use variation and will most likely be the most widely used variation. Slasher is basically Jason with a machete and without any super natural powers. Since he is holding a weapon, all his attacks have additional range; combos are easier to land and gains a projectile attack at the cost of some of his throws. So if you like doing combos or just mashing buttons, you'll probably enjoy the slasher variation.
The final variation is relentless and is the opposite of unstoppable. Instead of tactfully using buffs and saving meter, you can debuff your opponent, teleport to the other side and gain power the lower your health gets. However, a lot of these things can be tricky to use. Like the debuff removes their ability to run, inverts controls and makes things quite annoying, but it also has a bit of build up and is very easy to prevent. Even using it against the AI can be difficult and is not always worth the effort trying to make it work. Another thing is allowing for a controlled burn. By this I mean allowing yourself to lose health at an opportune time, so you can perform an even more devastating attack. Let's say you want to X-Ray, then you might take a few hits to increase your damage, so when/if your attack lands, it will do more damage. It's an interesting tactic, not only because it's risky, but also because it can cause your opponent to make the wrong call. For instance, you might try to dodge something you would have blocked and ultimately lose or block something you would have tried to counter, resulting in death by chip damage. This will vary from person to person and over time people will be able to accurately gauge it, but for most people it will, at the very least, be an unexpected factor.
Similar to the first DLC character Goro, Jason has a number of brutalities and two fatalities unlocked from the start. His first fatality is very bland, but ultimately suits the character. Jason pulls out his machete and then brutally chops the opponent in half. The other one has received mixed reactions and involves Jason grabbing the opponent, slamming them on the floor repeatedly as limbs, for whatever reason, fly off. Regardless of how you feel about either fatality, they're at least vaguely reminiscent of the source material or at least the first one is. Jason also currently lacks an alternate costume, so I wouldn't expect any DLC character to receive one or at least one with the launch of the character.
While fighting with Jason is an accessible and enjoyable experience, fighting against him can be a little tricky. One move I haven't mentioned is his armored walk, which gives Jason unflinching, allowing someone to not only tank your attack, but punish anyone stupid enough to mess with him. I'm sure anyone who has fought a character with armor (like Faction Boss Mileena) knows how useful that ability is and how powerful it can be in the right hands. Another thing is that due to Jason's extreme ease of use, a lot of inexperienced fighters have a character they can dominate with, but it comes with a price.
The downside to using an easy character or a commonly used character, is that skilled gamers eventually learn how to counter your moves and ultimately defeat you. Odds are people will quickly learn how to counter Jason, the best way to deal with him and start to anticipate your tricks (like not using meter when you're going to revive). Admittedly, this should be obvious to anyone with some fighting game experience, but it's important to understand that Jason might make a bad player okay, but it will never make a bad player good.
Jason is basically the best crossover character Mortal Kombat X fans could hope for. Not only is he true to the source material, he is accessible enough where casual fans can truly enjoy him with little to no effort. Unfortunately his fatalities and opening animations could be better, but these are offset by the horror movie sound effects and other little touches that give an approving nod to the genre and movies he represents.