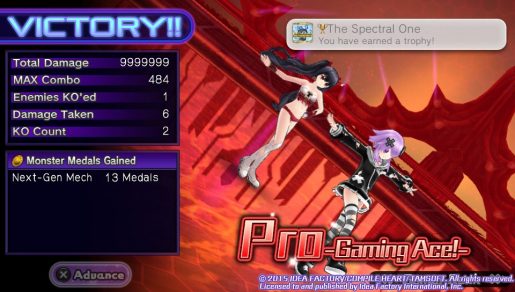 After you beat Neptunia U you unlock the Gamindustri Gauntlet, which upon completion unlocks the game's final challenge, the Neptral Tower. The tower has 50 floors that you need to complete in order to truly finish the game. However, in addition to having to beat the tower and having to beat it with every character for another trophy/the final rewards, you also need to complete the 50th floor at level 1. On paper this sounds frightening, mostly because the 50th floor pits you against the games final boss, Next-Gen Mech, but it's actually pretty easy. The guide below will tell you various ways to go about it, with the biggest factor being how much time you want to commit before crossing this fight off your things to do list.
Set Up
At the start of the game, you'll have a couple of accessories that you can use. Among them is an item called Forced Lv.1 Belt, which will void experience received and drop every character to level 1. The nice thing about this item is that only one person needs to wear it to have the desired effect. So I strongly suggest you give a random HDD form the item and use the six slots to make the ideal build for completing this task.
Pure Attack Method
Interestingly enough, the easiest way to defeat the Next-Gen Mech is to simply overwhelm it with attacks. For this I strongly suggest selecting Neptune and another character. For Neptune I strongly suggest using Darkness Gear (win the Gamindustri Gauntlet as Nepgear), Maximizing Kit X (150 Terits medals) and Maximizing Kit EX (300 real gamer medals). This will bring your attack to 9,999, even with the wooden sword, and drop your defense to 1. The other character should have the best defense items you have and the Fake Necklace (150 Whale Medals).
Now the basic idea of this method is pretty simple. At around 6,500 attack Neptune's attacks will cause the boss to cancel out of its attacks, allowing you to lock the boss in a loop if you can maintain the damage. I found the best way to do this is to spam the square combo until you do the spin attack and then push circle/evade after the first or second hit, followed by continuing the combo. If done correctly, the boss won't be able to attack and you just need to keep damaging him until he dies. Now all hope isn't lost if you do mess up, since only his forward attack will kill you, meaning any other attack can still be voided using this method.
So what's the point of the other character if you can stun lock the boss? Well, sometimes you'll mess up and getting hit by the right attack will kill Neptune. However, if you have enough defense you should be able to survive whatever the boss throws at you long enough to escape and then wait out the spawn timer for Neptune. The other reason is that you can't go in solo, so you might as well plan for a contingency plan, as the boss will just kill you both if your defense is too low.
Easy Method
Like everything in Neptunia U there is an idiot-proof way of doing things. To do it this way, simply unlock every medal based reward in the game. As you should already know, medals are obtained by killing that specific enemy type, so find missions where you can kill monsters you need and farm it until you obtain the last reward for every type. Doing this will unlock a new cheat that makes you immune to damage, which you can enable and then fight the boss without any fears of death or failure.